Sony Android 3D LED Price in Pakistan | 4K HD TV Series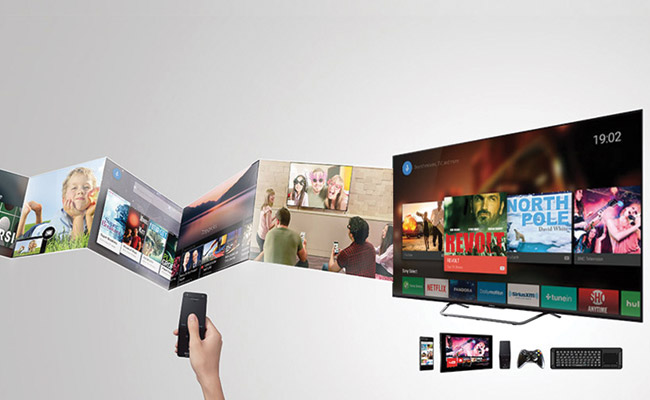 Model

KDL-43W800C

Prices

Rs. 110,500

Sony Android 3D LED KDL-43W800C Features
43" (Full HD Display)
Bluetooth: HID/ HOGP/ 3DSP/ A2DP/ AVRCP/ HSP/ HFP/ SPP
X-Reality™ PRO
Sony's Android 3D TV
Slim Design
ClearAudio+
One-touch Connection (NFC)
Motionflow XR 800 Hz
Dolby Digital, Dolby Digital Plus, Dolby Pulse
Wi-Fi Connectivity, Wi-Fi Direct
Power Consumption: 82W
Power Requirements: DC 19.5V
Approx. 11.8 Kg Weight with Stand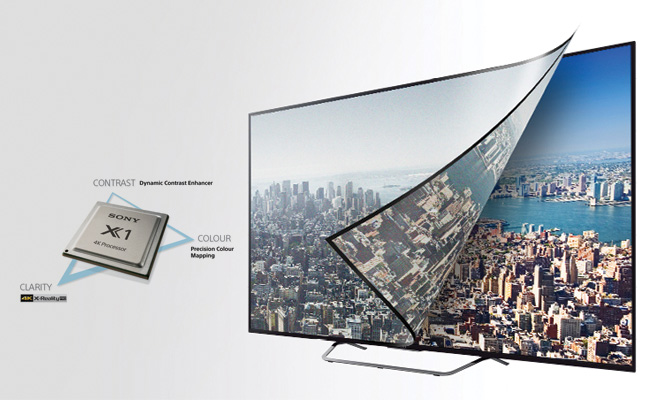 Model

KD-49X8300C

Prices

Rs. 180,500

Sony BRAVIA 3D & 4K LED KD-49X8300C Features
49" (QFHD Display)
Bluetooth: HID/ HOGP/ 3DSP/ A2DP/ AVRCP/ HSP/ HFP/ SPP
4K X-Reality PRO Video Processing
Sony's Android 3D TV
Slim Design
ClearAudio+
One-touch Mirroring
Motionflow XR 800Hz
Dolby Digital, Dolby Digital Plus, Dolby Pulse
S-Master Digital Amplifier
Wi-Fi Connectivity, Wi-Fi Direct
Power Consumption: 150W
Power Requirements: AC 110-240V, 50/60Hz
Approx. 15.4 Kg Weight with Stand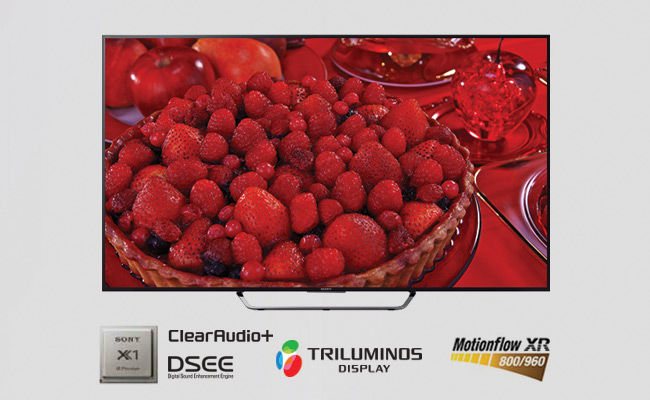 Model

KD-55X8500C

Prices

Rs. 299,500

Sony Android 3D & 4K LED KD-55X8500C Features
55" (QFHD Display)
Bluetooth: HID/ HOGP/ 3DSP/ A2DP/ AVRCP/ HSP/ HFP/ SPP
4K X-Reality PRO Video Processing
Sony's Android 3D TV
Slim Design
ClearAudio+
One-touch Mirroring
Motionflow XR 800Hz
Dolby Digital, Dolby Digital Plus, Dolby Pulse
S-Master Digital Amplifier
Wi-Fi Connectivity, Wi-Fi Direct
Dynamic Backlight Control
Power Consumption: 202W
Power Requirements: AC 110-240V, 50/60Hz
Approx. 21 Kg Weight with Stand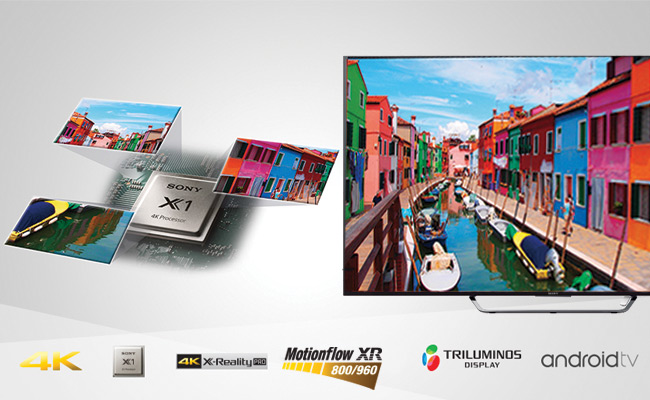 Model

KD-65X8500C

Prices

Rs. 455,500

Sony Android 3D & 4K LED KD-65X8500C Features
65" (QFHD Display)
Bluetooth: HID/ HOGP/ 3DSP/ A2DP/ AVRCP/ HSP/ HFP/ SPP
4K X-Reality PRO Video Processing
Sony's Android 3D TV
Slim Design
ClearAudio+
4K processor X1 chip
One-touch Mirroring
Motionflow XR 800Hz
Dolby Digital, Dolby Digital Plus, Dolby Pulse
S-Master Digital Amplifier
Wi-Fi Connectivity, Wi-Fi Direct
Dynamic Backlight Control
Power Consumption: 261W
Power Requirements: AC 110-240V, 50/60Hz
Approx. 25.5 Kg Weight with Stand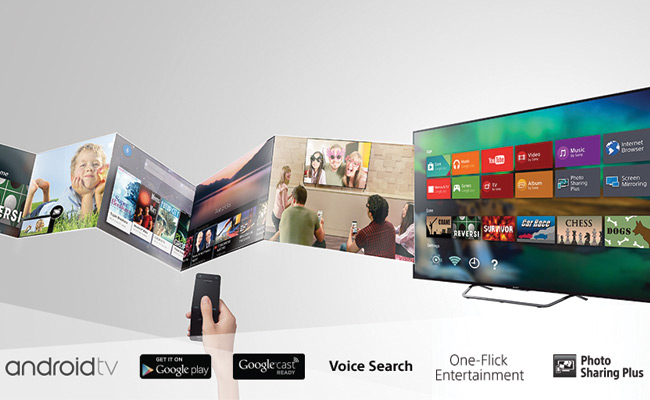 Model

KD-75X8500C

Prices

Rs. 795,500

Sony Android 3D & 4K LED KD-75X8500C Features
75" (QFHD Triluminos Display)
Bluetooth: HID/ HOGP/ 3DSP/ A2DP/ AVRCP/ HSP/ HFP/ SPP
4K X-Reality PRO Video Processing
Sony's Android 3D TV
One-flick entertainment
ClearAudio+
4K processor X1 chip
One-touch Mirroring
Motionflow XR 800Hz
Dolby Digital, Dolby Digital Plus, Dolby Pulse
S-Master Digital Amplifier
Wi-Fi Connectivity, Wi-Fi Direct
Dynamic Backlight Control
Power Consumption: 398W
Power Requirements: AC 110-240V, 50/60Hz
Approx. 36.3 Kg Weight with Stand
Sony Android 3D & 4K LED TV Review
What Is Special about Android-Powered ED LED's from Sony?
The Android-based LED televisions from the house of Sony come packed with the extreme operational efficiency and visual brilliance that can expand your entertainment to a great extent. The advanced version of Android operating system is much better than its traditional counterparts. The 3D view too comes with extraordinary finishing. At the same time, it takes you to the world of Google Play for a huge collection of TV shows, movies, music and apps, all placed at the distance of a click. There are also options for connecting with other devices, so that you may seamlessly sync and transfer the data.
Picture & Sound Quality—Defying All Expectations:
The stunning 4K ultra HD resolution is accompanied by innovative processing technology that is brimming with potential to automatically enhance the color, contrast and clarity. It is the miracle of 4K Processor X1 Chip that can change everything. As a result, every scene comes alive with breathtaking realism, thus redefining your TV watching experience and making it memorable.
Turning to sound quality, the BRAVIA's audio quality is just mind blowing. The combined potential of Sony's ClearAudio+ and High Resolution Audio technologies serves to fine-tune TV audio. So, you get not only powerful but also well-balanced sound for a complete and perfect enjoyment. A pure sound comes from various built-in speakers, including Bass Reflex Speaker, Long Duct Speaker and Magnetic Fluid Speaker.
Ultra Slim Body to Add to the Charm of Your TV Lounge:
The body is so thin and smart that you won't find such slimness in any other modern or even postmodern LED TV. So, with reasonable Sony Android 3D LED price in Pakistan, this accomplished television will complement any living space where you install it. Playing all your content in the mind blowing 4K Ultra HD Resolution, the LED's sophisticated display creates an exquisite canvass on the wall. The stanch lovers of smartness and style can't resist immediately falling in love with its marvelous dimensions.
Android 3D LED TV Series and Models:
A wide range of Sony's Android LED models are available that have been grouped under different BRAVIA series. The latest 4K BRAVIA X-Series and W850/W800 are particularly notable. The main series are further divided into X95, X94, X90, X85, X83, W800C and W850B. The LED's having "X" in their name have large display sizes as compared with their "W" counterparts. All the models are being offered against attractive Sony Android 3D LED price in Pakistan. Such a level of economy cannot be seen elsewhere.
A Range of Display Dimensions:
Sony's popular Android 3D LED series contain a collection of models with varying display sizes, ranging from as small as less than 42 inches to more than 85 inches. So, you can go for any of these based on your liking, requirement and financial capacity. The display quality, however, may not remain the same across all these versions. The models powered with 4K processing and other advanced features have larger displays and are also enriched with extra visual brilliance.