Samsung 3D LED TV Price in Pakistan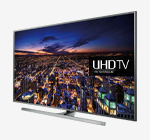 Model

55JU7000

Prices

Rs. 162,999

Samsung 3D LED 55JU7000 TV Features
55 Inches Display
4K Full HD TV
Experience immersive viewing
Beautiful Ultra HD
The power of light
Simple, seamless interaction
Sports Mode - Rugby and Soccer
3D22 with impact
USB, HDMI, WIFI Supported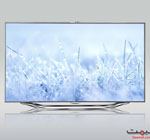 Model

UA46ES8000R

Prices

Rs. 245,000

Samsung 8 Series 3D LED ES8000 Features
46 Inches Display (1920 x 1080 Resolution)
Intuitive interaction with voice, face and motion control
Smart Evolution
Smart Content
Micro Dimming Ultimate
Built in Camera
800Hz CMR
Dual Core Processor
Crystal Design
Wide Color Enhancer
ConnectShare Movie (HDD)
Silver Color
19.10 Kg Weight
Model

UA55ES8000R

Price

Rs. 380,000

Samsung 8 Series 3D LED ES8000 Features
55 Inches Display (1920 x 1080 Resolution)
Intuitive interaction with voice, face and motion control
Smart Evolution
Smart Content
Micro Dimming Ultimate
Built in Camera
Dual Core Processor
Crystal Design
800Hz CMR
Wide Color Enhancer
ConnectShare Movie (HDD)
Silver Color
25.4 Kg Weight
Model

UA55ES7500R

Price

Rs. 335,000

Samsung 7 Series 3D LED ES7500 Features
55 Inches Display (1920 x 1080 Resolution)
Intuitive interaction with voice, face and motion control
Smart Evolution
Smart Content
Micro Dimming Ultimate
Built in Camera
Dual Core Processor
Crystal Design
600Hz CMR
Wide Color Enhancer
ConnectShare Movie (HDD)
Black Color
Energy Efficiency Class A
Model

UA46ES7100R

Price

Rs. 190,000

Samsung 7 Series 3D LED ES7100 Features
46 Inches Display (1920 x 1080 Resolution)
Smart Content
Micro Dimming
Wi-Fi Direct
Full Web Browser
Dual Core Processor
Crystal Design
600 / 720 Clear Motion Rate
Wide Color Enhancer
ConnectShare Movie (HDD)
Hot Stamping (Silver) Color
58W Typical Power Consumption
Model

UA40ES6200R

Price

Rs. 110,000

Samsung 6 Series 3D LED ES6200 Features
40 Inches Display (1920 x 1080 Resolution) Full HD 3D
Smart Content
Full Web Browser
Skype Capable
Crystal Design
Built in Wi-Fi
400Hz Clear Motion Rate
Wide Color Enhancer
AllShare Play
Hot Stamping (Silver) Color
58W Typical Power Consumption
Model

UA40ES6200R

Price

Rs. 150,000

Samsung 6 Series 3D LED ES6200 Features
46 Inches Display (1920 x 1080 Resolution) Full HD 3D
Smart Content
Full Web Browser
Skype Capable
Crystal Design
Built in Wi-Fi
400Hz Clear Motion Rate
Wide Color Enhancer
AllShare Play
Hot Stamping (Silver) Color
58W Typical Power Consumption
Model

UA32EH6030R

Price

Rs. 56,000

Samsung 6 Series 3D LED EH6030 Features
32 Inches Display (1920 x 1080 Resolution) Full HD 3D
Full Web Browser
High Glossy Design
Wireless LAN Adapter
200Hz Clear Motion Rate
Wide Color Enhancer Plus
AllShare Play
Black Color
Watch Movies From USB
50W Typical Power Consumption
Model

UA40EH6030R

Price

Rs. 76,000

Samsung 6 Series 3D LED EH6030 Features
40 Inches Display (1920 x 1080 Resolution) Full HD 3D
2D to 3D Connecter
Full Web Browser
High Glossy Design
Wireless LAN Adapter
200Hz Clear Motion Rate
Wide Color Enhancer Plus
AllShare Play
Black Color
Watch Movies From USB
63W Typical Power Consumption
Model

UA46EH6030R

Price

Rs. 112,000

Samsung 6 Series 3D LED EH6030 Features
46 Inches Display (1920 x 1080 Resolution) Full HD 3D
2D to 3D Connecter
2D to 3D Connecter
High Glossy Design
Wireless LAN Adapter
200Hz Clear Motion Rate
Wide Color Enhancer Plus
AllShare Play
Black Color
Watch Movies From USB
69W Typical Power Consumption
Samsung 3D LED TV Review
Change the way you view the world with the revolutionary Samsung 3D LED TV sets. With the growing technology, you must keep pace with the advancing world and replace your outdated television sets with Samsung LED's of the future. Enjoy a whole new experience of unparalleled clarity and resolution with these LED's. The price range varies from as low as Rs. 56,000 to Rs. 380,000 depending on the features and the size you desire to have. With an elegant design, efficient power consumption and a promise of delivering unlimited entertainment, Samsung has actually brought a new change to the world.
Samsung 3D LED 8 Series
The 8 series televisions are available in two sizes: 46 inches and 55 inches. The Samsung 3D LED TV price in Pakistan for these models is Rs. 245, 000 for the smaller set and Rs. 380, 000 for the larger one. These are no ordinary televisions with Smart Evolution, Smart Content and dual core processors. With Smart Evolution, it is a one time investment since the smart evolution kit can bring your Samsung television set to the latest upgrades without the need to purchase any new components.
These LED TVs pamper their customers to an unbelievably great extent. You can control your television conveniently through the voice and face controls. Enjoy the comfort of your couch as you give commands to your TV.
Samsung LED 7 Series
Available in 46 inches and 55 inches screen sizes, the Samsung LED 7 series televisions have pretty much the same features as the 8 series TVs. The smart content is one of the major highlights. You no longer have to rely on the cable for something interesting to watch. Instead, watch your favorite movies and shows on the internet.
One of the 7 series models, ES71000 also has a full web browser. Enjoy browsing the internet on the large 46 inches screen of the Samsung 3D LED TV. What an amazing experience it is going to be, if we experience it in our drawing room with other family members.
Samsung LED 6 Series
The 6 Series Samsung LED TVs are the best of all. These are full High Definition television sets available at a price range from Rs. 56,000 to Rs. 112,000.
One of the most special features is 2D to 3D video conversion. Have an exciting experience of watching movies in 3D right at your own home. Movies can also be watched by connecting a USB to your Samsung LED 6 series TV. If that wasn't enough, Samsung has also a full web browser to let its valued customers watch movies online. So, you can pick out movies of your own choice and watch them uninterruptedly. With Samsung LED TVs, it's all about pure, non-stop entertainment right at your own home.