Geepas Microwave Oven Prices - Kitchen Appliances in Pakistan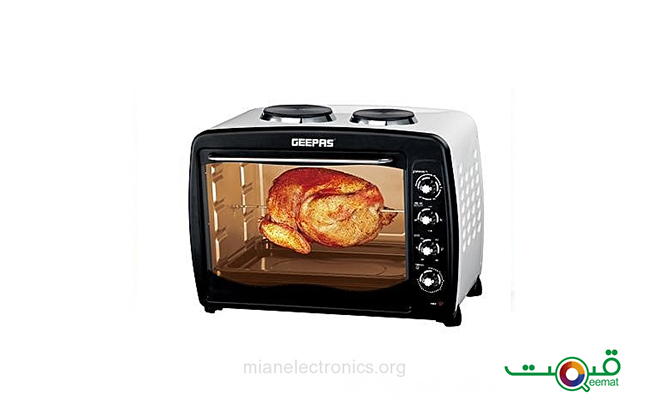 Geepas GO4452 Electric Oven With Hot Plates Black & Silver Ha236
Baking+inverter+Air Fryer
Interior: grey painted
25L cavity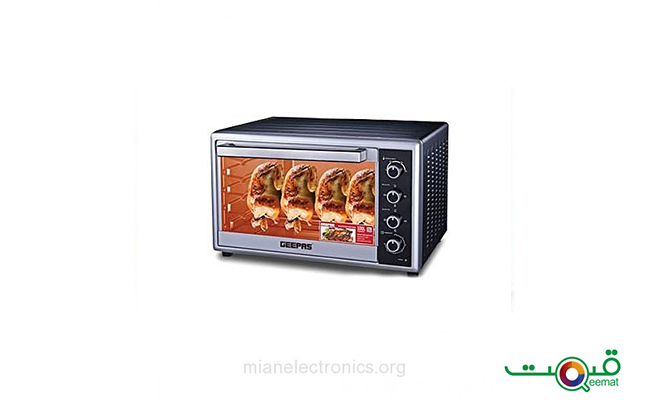 Geepas GO4465 Electric Oven With Rotisserie And Convection Silver Ha260
Output (Watt):2700W
Convection function
Rotisserie function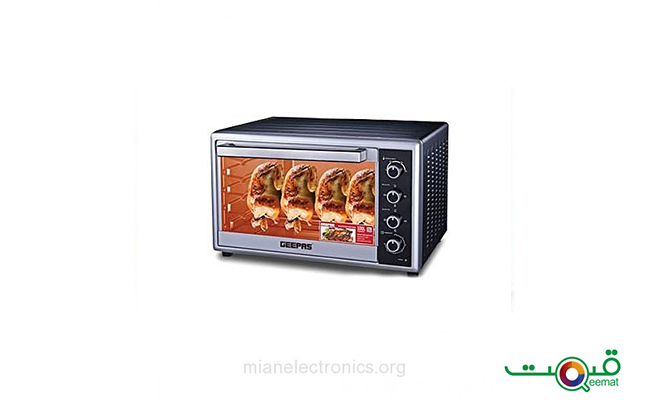 Geepas GO4465 Electric Oven With Rotisserie And Convection Silver Ha154
100L capacity
2700W power
Rotisserie function
Old And Discontinued Models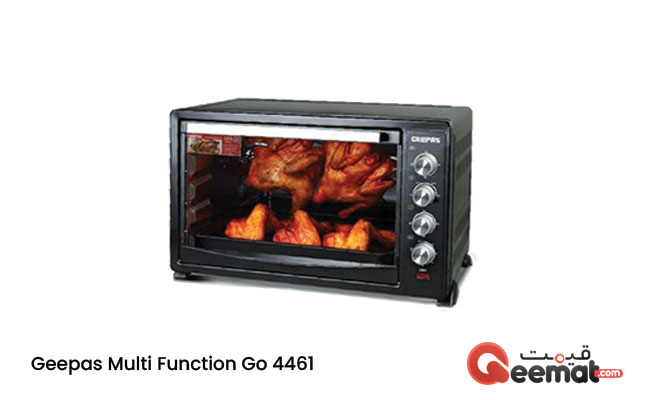 Company

Geepas

Model

Geepas Multi Function Oven Go4461

Prices in Pakistan

Rs. 23,999

Features
Capacity 120 Liters
Colour Black
4pcs high-efficiency
S.S Heating Element
120 minutes timer with bell ring
Rotisserie function
00°C – 250°C adjustable temperature
Main Material Metal
Shipping Weight (kg) 50
Output (Watt): 2800W
Fuel: Electric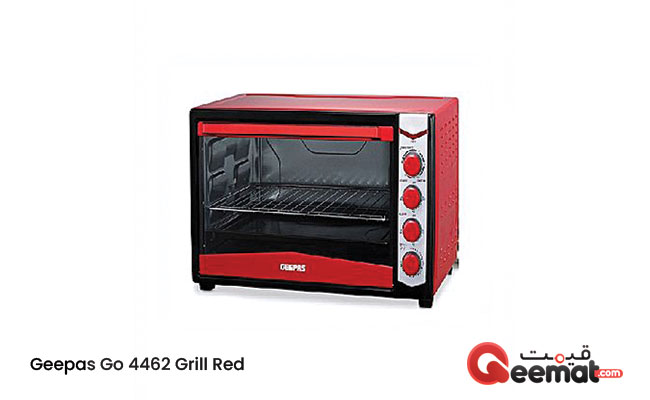 Company

Geepas

Model

Geepas GO 4462 Electric Oven With Grill Red

Prices in Pakistan

Rs. 22,999

Features
Colour Red
Rotisserie & convection function
4 knobs easy control
60min timer control with bell ring
Large viewing window
Inside lamp
Grills 2 big chickens or 3 small chickens
Special knob to control temperature 100-250°C
Full range temperature control
High quality stainless steel heating elements
Output (Watt) : 2000W
Fuel: Electric
Company

Geepas

Model

Geepas GO4465 Oven Rotisserie&Convection-Silver-Ha154

Prices in Pakistan

Rs. 21,999

Features
Capacity 100 Liters
Colour Silver
Convection function
Rotisserie function
100-250?C adjustable temperature
Output (Watt):2700W
Fuel: Electric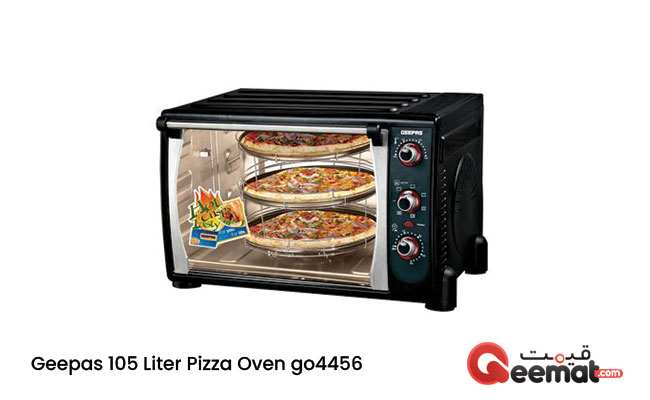 Company

Geepas

Model

Geepas Pizza Oven GO4456

Prices in Pakistan

Rs. 20,999

Features
Capacity 105 Liters
Colour Black
Digital control : No
Convection-rotisserie
three layers Pizza cooking accessories with inner lamp
7 power settings
Black body-door frame-control panel
Stainless steel glass clip-door handle
Output (Watt) : 2400W
Fuel: Electric
Company

Geepas

Model

Geepas GO-4451 Oven With Grill

Prices in Pakistan

Rs. 19,999

Features
Capacity 45 Liters
Colour Black
Child safety lock : no
Grill Oven : yes
Digital control : no
Type : Electric Oven Toaster with Rotisserie
Shipping Weight (kg) 5
Output (Watt) : 1500
Fuel: Electric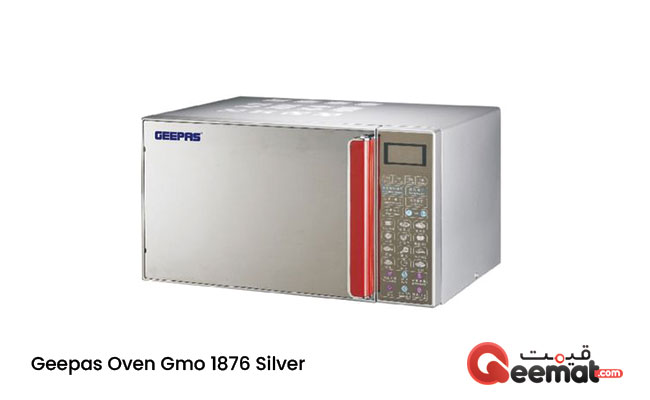 Company

Geepas

Model

Geepas Oven GMO1876 In Silver

Prices in Pakistan

Rs. 18,000

Features
Colour Silver
Child safety lock
Grill Oven : yes
Digital control
10 Microwave power Levels
Microwave & Grill
Main Material Steel
Output (Watt) : 900
Fuel: Electric
Company

Geepas

Model

Geepas GO-2413 Oven Toaster Hot Plate

Prices in Pakistan

Rs. 16,499

Features
Cpacity 60 Liters
Colour Black
Child safety lock : no
Grill Oven : yes
Digital control : no
Temperature control: 100-250'c
Rotisserie and convection
Stainless steel heating element
Output (Watt) : 2000W
Fuel: Electric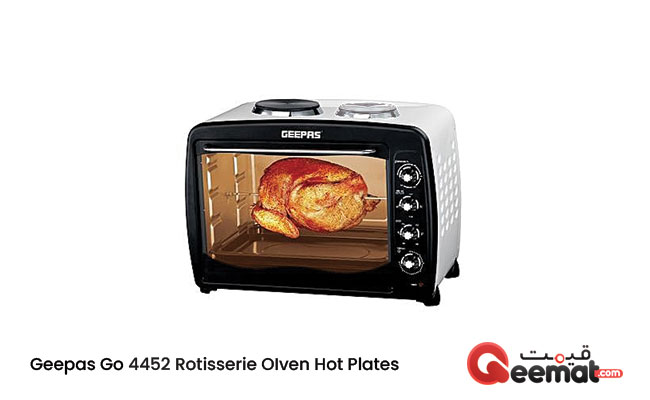 Company

Geepas

Model

Geepas GO4452 Rotisserie Oven With Hot Plates Ha236

Prices in Pakistan

Rs. 15,999

Features
Colour Black & Silver
60 minutes timer with inside lamp
6-stage for heating and rotisserie
100-250°C temperature control
4-stage hotplate selector: off-left hotplate-right hotplate-left+right hotplate
Stainless steel heating element
Output (Watt):700W
Fuel: Electric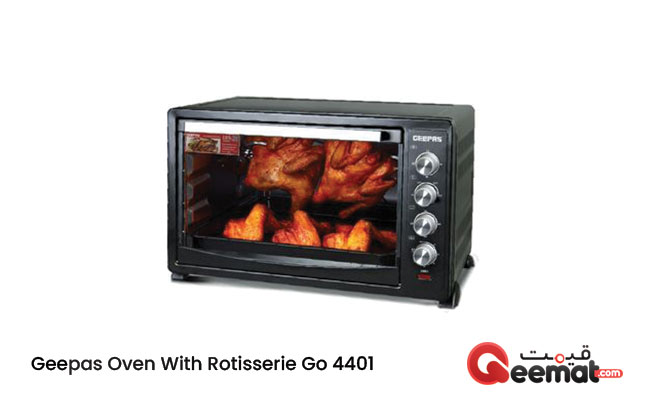 Company

Geepas

Model

Geepas Oven With Rotisserie Go4401

Prices in Pakistan

Rs. 14,699

Features
Colour Black
Digital control : Yes
With rotisserie
Can grill 2 big chickens or 3 small chickens
4 Knobs-easy control
A special knob to control temperature 100-250C
Main Material Metal
Output (Watt) : 2000W
Shipping Weight (kg) 50
Fuel: Electric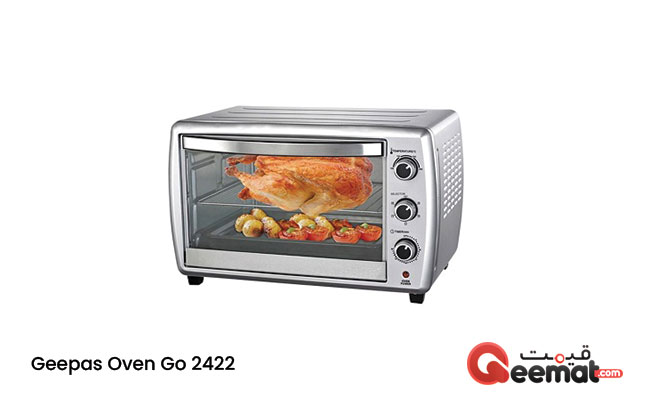 Company

Geepas

Model

Geepas Electric Oven GO2422

Prices in Pakistan

Rs. 14,500

Features
Colour Silver
Child safety lock : No
Function: ROTISSERIE
Convection Available
Inner Lamp Given
Weight: 9.35kg
Net weight:11.38kg
Size: LWH:645*516*430mm
Output (Watt) : 1800W
Shipping Weight (kg) 10
Fuel: Electric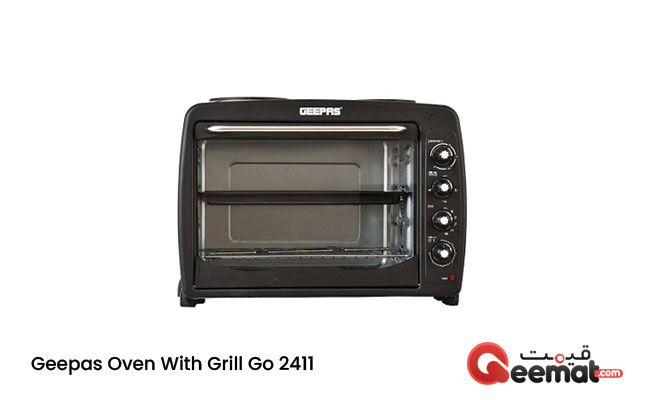 Company

Geepas

Model

Geepas Electric Oven With Grill GO-2411

Prices in Pakistan

Rs. 13,000

Features
Capacity 59 Liters
Colour Black
Child safety lock : No
Grill Oven : yes
Digital control : no
With Rotisserie
Temperature: 100°-250°C
Stainless steel
Output (Watt) : 2000
Shipping Weight (kg) 10
Fuel: Electric
Company

Geepas

Model

Geepas GO4451 Electric Oven With Grill

Prices in Pakistan

Rs. 11,999

Features
Capacity 47 Liters
Colour Black
Grill Oven : yes
Grill Oven : yes
Type : Electric Oven Toaster with Rotisserie
Auto shut-off with bell ring (Minutes) : 60
Indicator light : yes
Child safety lock : no
Digital control : no
Temperature control (*C) : 250
Output (Watt) : 1500
Fuel: Electric
Company

Geepas

Model

Geepas Multi Function Oven GO4458

Prices in Pakistan

Rs. 11,649

Features
Capacity 30 Liters
Colour Multicolor
Special design with double glass door
4pcs high-efficiency
S.S Heating Element
60 minutes timer with bell ring
100-250 °C adjustable temperature
Main Material Metal
Output (Watt) : 1500W
Fuel: Electric
Company

Geepas

Model

Geepas Electric Oven GO893

Prices in Pakistan

Rs. 9,500

Features
Capacity 35 Liters
Colour Black
Grill Oven : yes
With Rotisserie
6 Heating switch selector
Child safety lock : no
Digital control : no
Temperature: 0°-250°C
Stainless steel
Output (Watt) : 1500W
Fuel: Electric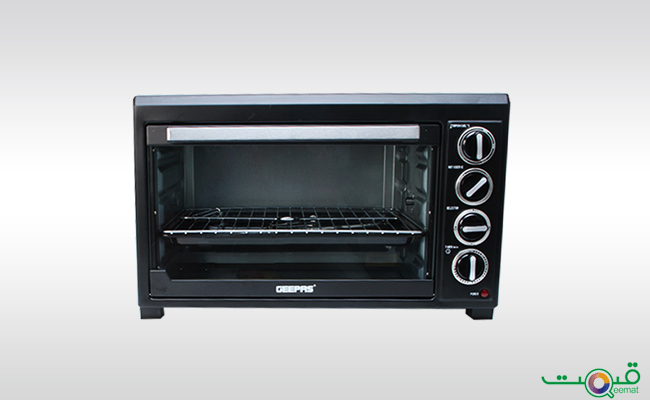 Model

GO4451 (Discontinued)

Prices

Rs. 15,000

Geepas GO4451 - Electric Oven Features
Output (Watt) : 1500
Child safety lock : no
Grill Oven : yes
Digital control : no
Type : Electric Oven Toaster with Rotisserie
Temperature control (*C) : 250
Auto shut-off with bell ring (Minutes) : 60
Rotisserie Control : yes
Indicator light : yes
Capacity (L): 47
AC 220-240V 50/60Hz
Model

GO4462 (Discontinued)

Prices

Rs. 18,000

Geepas GO4462 - Electric Oven With Grill Features
Output (Watt) : 2000W
Rotisserie & convection function
Grills 2 big chickens or 3 small chickens
4 knobs easy control
Special knob to control temperature 100-250°C
60min timer control with bell ring
Full range temperature control
Large viewing window
High quality stainless steel heating elements
Inside lamp
AC 220 -240V-50/60Hz 2000W
Model

GO6146 (Discontinued)

Prices

Rs. 17,000

Geepas GO6146 - Multi-Function Microwave Oven Features
Output (Watt) : 2100W
Rotisserie function CB certificate
250-0 degree adjustable temperature
60 minutes timer with bell ring
6pcs high-efficiency S.S Heating Element
Power Indicator light
Geepas Mirowave Oven Review
The microwave oven technology has been designed to give a great deal of facilitation in doing the routine kitchen jobs, like heating, cooking, toasting, grilling, rotisserie, baking, and so on. It not just minimizes effort but also shrinks the job of hours into a few minutes or even seconds. That is why it has become the need of the day and can be seen in almost every modern kitchen.
While enjoying comfort, did you ever think of the hazards of the powerful microwave energy used to heat and cook foods in the oven? If exposed to the microwave energy, that part of your body will get burnt. So, you have to be careful and go for only that brand which, beside other high-end features, also offers safe usage.
Reliable Geepas Ovens:
Geepas has launched a wide range of microwave ovens with efficient performance and attractive outward appearance. You can use them for heating, baking and cooking, etc. different things. In case, you want to get all these functionalities in a single oven, you will have to go for an advanced model and pay more for that, corresponding to the specs standards.
The price effectiveness of the Geepas oven brand is also laudable. You will find Geepas microwave oven prices in Pakistan so economical and, thereby, easily affordable. If the price factor is more important to you, you will probably reject other brands and change your decision in favor of Geepas. At the same time, the company doesn't ask the buyers to make any compromise for the high-tech features
Geepas Microwave Oven Prices in Pakistan:
The Geepas microwave oven prices in Pakistan range from as low as just around Rs. 13,000 to as high as Rs. 25,000 or a bit over. Obviously, the low-end versions have less powerful and limited functionalities. On the other hand, their high-end counterparts come with a plethora of top-notch features that you will love to use to make your kitchen life incredibly easy.
A Look at Specs:
GO4408 is a toaster electric oven, from the house of Geepas, which you can get against just a little over thirteen thousand rupees. GO4408 also includes the options of grilling and rotisserie. It is large enough to accommodate food contents measuring as large in volume as 42 liter! The 1500 Watt output will facilitate and quicken the process of cooking.
The GO4456 is one of the costliest and functionally most versatile model of the microwave ovens from the company. After owning it against twenty-five thousand rupees as Geepas microwave oven price, you will get the power output of 2400 for an incredibly fast cooking. You can also cook a delicious pizza in it without losing its delicacy and nutritious value – and three at a time. There are three levels or stands for placing pizzas. It has seven power setting options which will allow you to heat and cook different things.
The temperature can be adjusted between the range of 100 0C to 250 0C. And it's enough because higher temperature may lead to the loss of the nutritious value of the food. As for timer, you can set it between 1 to 60 minutes depending upon your needs. Here it is also noteworthy that the interior has a whopping 105-liter volume.