Geepas Gas Cooker - Kitchen Appliances Price in Pakistan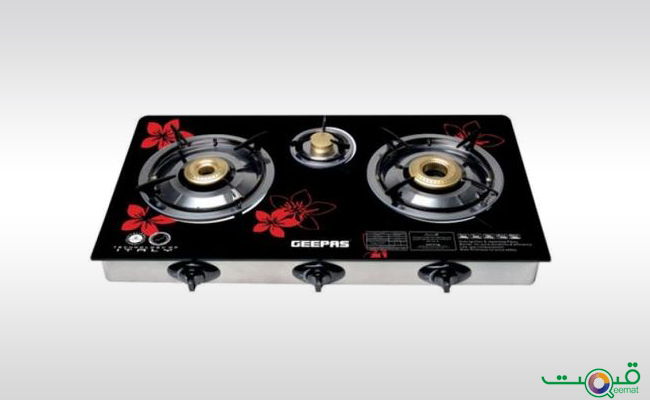 Model

Geepas

Price

Rs. 8,500

Geepas Gas Hob Features
Auto ignition system : yes
GAS Type : LPG
Product Size(mm) : Three Burner
Type : 70+45+90
Type : Double Indian Brass Burner
Stainless Steel Frame and Tray
Tempered Glass thickness (MM) : 8
Japanese piezo
Tempered glass cook-top
Heavy cast iron mixing tube
Fuel efficient brass burners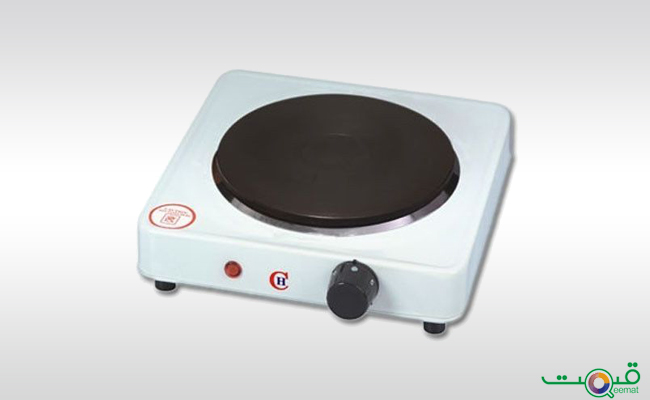 Model

GHP7568

Price

Rs. 7,649

Geepas Single spiral hot plate GHP7568 Features
Type : Single
Power (Watt) : 1500
Plate Size (mm) : 180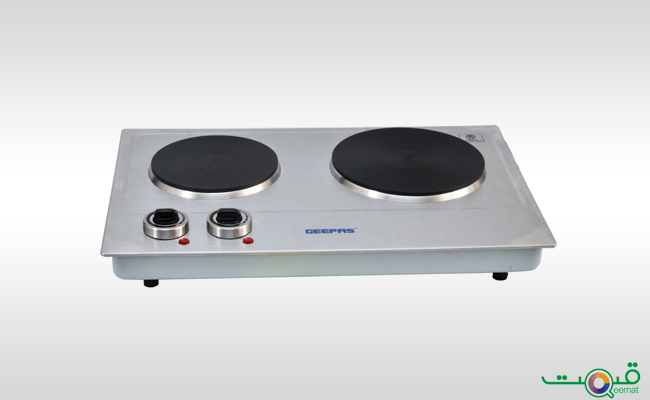 Model

GHP7570

Price

Rs. 4,999

Geepas Single Spiral Hot Plate GHP7570 Features
Type : Double Hotplate
Power (Watt) : 2500
Plate Size (mm) : 155 / 188
Temperature Control
Over heat protection
Stainless steel body
AC 220-240V 50Hz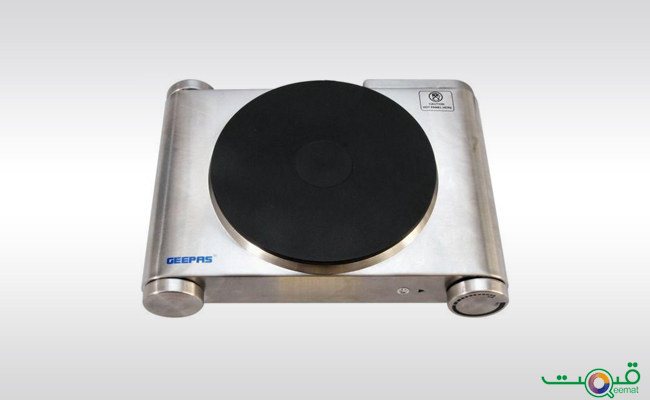 Model

GHP7571

Price

Rs. 8,449

Geepas Single Spiral Hot Plate GHP7571 Features
Type : Single Hotplate
Power (Watt) : 1500
Plate Size (mm) : 188
Temperature Control
Over heat protection
Stainless steel body
AC 220-240V 50Hz
Model

GHP7578

Price

Rs. 8,449

Geepas Stailess Steel Double Hot Plate GHP7578 Features
Power (Watt) : 2500W
1000W small hot plate
1500W large hot plate
Thermostatically controlled neon power indicators
Individual variable temperature control dials
Easier to clean than a regular oven hob-etc
Can be used as a food warmer
Non-slip feet
Stainless steel body
AC: 220-240V 50/60Hz 2500W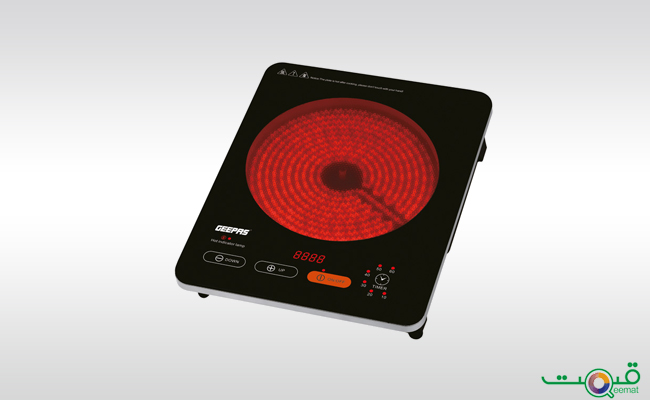 Model

GIC6910

Price

Rs. 8,749

Geepas Digital Infrared Cooker GIC6910 Features
Power (Watt) : 2000W
High-tech/ far-infrared heating
Any pot can be used (such as iron 1 aluminum/ copper/ceramics and heat-resistant glass )
Multi-function: steam /boil fry/ BBQ (grill)/ hot pot/water and soup
Environment-friendly: no fire no smoke and no carbon monoxide
Easy to clean
Crystal glass plate
Convenience: intelligent micro-computer control
AC 220-240V 50/60Hz 2000W
Model

GIC6916

Price

Rs. 8,149

Geepas Digital Infrared Cooker GIC6916 Features
Power (Watt) : 2000
Type : Induction Cooker
High efficiency
Multi-function: Steam | Boil | Fry | Grill | Hotpot
Environmental friendly
Black crystal glass plate
Low noise
Multiple safety protection
AC 220-240V 50/60Hz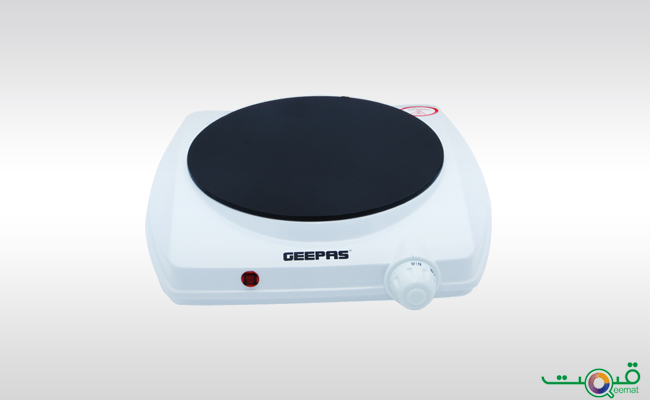 Model

GIC6917

Price

Rs. 7,549

Geepas Single Infrared Cooker GIC6917 Features
Power (Watt) : 1250
Type : Single infrared-cooker
Multi-function : Steam | Boil | Steam | Roast
Crystal glass plate
Multi safety protection : yes
Low noise
Temperature control switch : yes
AC 220-240V 50/60Hz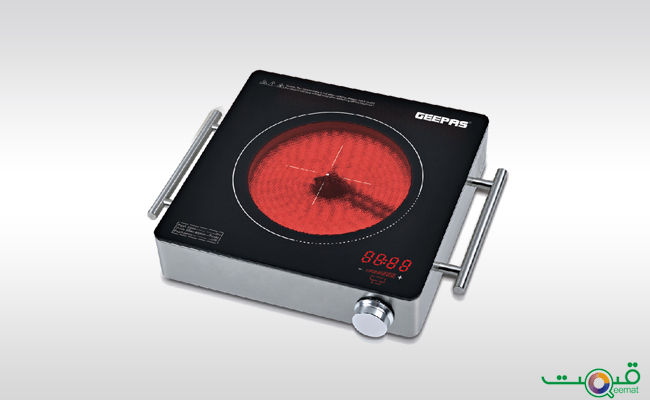 Model

GIC6919

Price

Rs. 8,999

Geepas Digital Infrared Cooker GIC6919 Features
Power (Watt) : 2200 Watt
Suitable for all kinds of cookware
High temperature resistant glass 280*280mm
Elegant Design
Fireproof material
Stainless steel body
Ceramic heating element with 10 levels of watt setting
Convenient knob control
4 digit LED display
Timer function
Overheat protection-over current protection_high & low voltage protection
No magnetic radiation
AC 220-240V 50/60Hz 2200W
Model

GIC6920

Price

Rs. 6,499

Geepas Digital Infrared Cooker GIC6920 Features
Stainless steel body
Type : Multi Cooker
Fry and BBQ function with 10 temperature setting
High temperature resistant glass 280*360mm
Timer function
Child lock function
Fireproof material
No magnetic radiation
Suitable for all kinds of cookware
Model

GIC5473

Price

Rs. 7,499

Geepas Digital Infrared Cooker GIC5473 Features
Power (Watt) : 2000
Type : Infrared Cooker
Suitable for all kinds of cookware
High temperature resistant glass 310*380mm
Elegant Design
Fireproof material
Soft finger touch control
Ceramic heating element with 6 levels of watt setting
4 digit LED display
Timer function
Child lock function
Overheat protection-over current protection_high & low voltage protection
No magnetic radiation
AC 220-240V 50/60Hz 2000W
Model

GIC6911

Price

Rs. 9,749

Geepas Digital Infrared Cooker GIC6911 Features
Power (Watt) : 2000W
Type : Infrared Cooker
Multi function: Steam/Boil/Fry/BBQ grill
Hot indicator lamp
Touch sensor control
Low noise
AC 220-240V 50/60Hz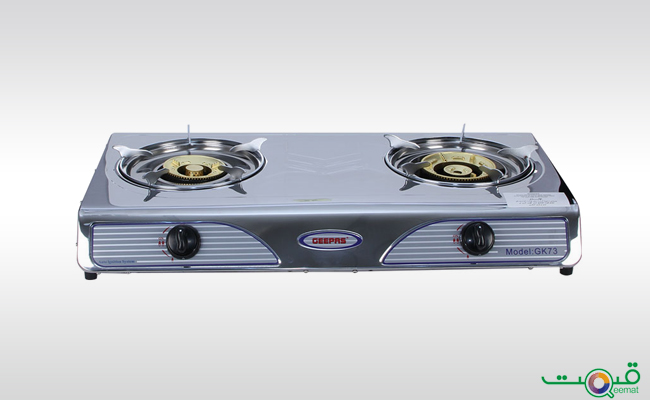 Model

GK73

Price

Rs. 17,499

Geepas Kitchen Appliance - Gas Cooker GK73 Features
Auto ignition system : yes
GAS Type : LPG
Product Size(mm) : 770*420*140
Gross weight (kg) : 6.0
Type : Two Burner
Panel style: Stainless Steel
Heat input: 7KWMax
Gas rate: 630g/h
Electronic Ignition
Burner Size: 120mm+100mm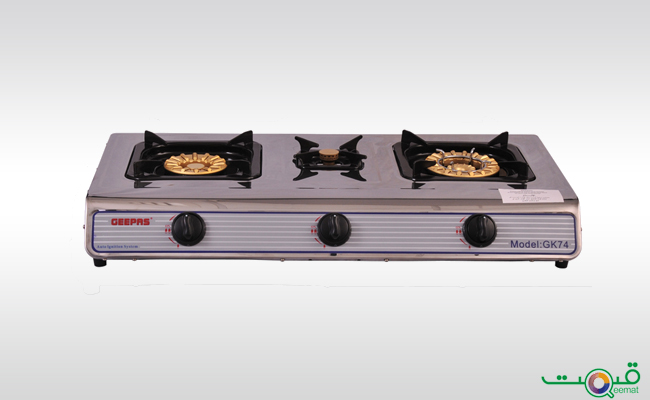 Model

GK74

Price

Rs. 16,499

Geepas Kitchen Appliance - Gas Cooker GK74 Features
Auto ignition system : yes
GAS Type : LPG
Product Size(mm) : 770*420*140
Gross weight (kg) : 6.6
Type : Three Burner
Model

GK4280

Price

Rs. 21,499

Geepas Kitchen Appliance - Gas Cooker GK4280 Features
Auto ignition system : yes
GAS Type : LPG
Product Size(mm) : 670*360
Gross weight (kg) : 9.5
Type : Two Burner
Model

GK6862

Price

Rs. 6,250

Geepas Glass Gas Stove with Two Infrared Burner GK6862 Features
Auto ignition system : Yes
GAS Type : LPG, 2800pa
Product Size(mm) : LWH:720x375x120mm
Gross weight (kg) : 8.04KG
Type : Glass Gas Stove with Two Infrared Burner
Tempered Glass-top Panel size:720x375mm with 8 mm thickness
2 Infrared Burner/Burners Size: 155mm +155mm
Stainless Steel# 201 Frame
Auto Piezo Ignition
Round Stainless Steel Tray Enameled Pan Support with Wok Support 5 layer Gift box packing
Model

GK6865

Price

Rs. 8,500

Geepas Glass Gas Stove GK6865 Features
GAS Type : LPG
Product Size(mm) : 720x375x120mm
Gross weight (kg) : 8.04KG
2 Infrared Burner
Size: 155mm 155+mm
Stainless Steel# 201 Frame
Auto Piezo Ignition
Round Stainless Steel Tray
Model

GK6885

Price

Rs. 9,999

Geepas GK6885FFD 3D Stylized Gas Burner Features
Gas type : G30 Auto Piezo ignition
LPG with 2800 pa
Low Gas Consumption
Heavy Cast Iron Mixing Tube
Fuel Efficient Brass Burners Rated Gas Pressure : 28 - 30m Bar
FFD (Flame Failure Safety Device)
8mm thickness Tempered Glass Stainless Steel Frame and Tray
Double Indian Brass Burner: 70 mm + 90 mm Rated Thermal Current (KW) : 4.5kW (327.5g/h)
Model

GK6887

Price

Rs. 7,999

Geepas Double burner Gas cooker GK6887 Features
GAS Type : LPG
Product Size(mm) : 070 mm + 090 mm
Type : Gas cooker
Gas type : G30
Auto Piezo ignition
LPG with 2800 pa
Low Gas Consumption
Heavy Cast Iron Mixing Tube
Fuel Efficient Brass Burners
Rated Gas Pressure : 28 - 30m Bar
8mm thickness Tempered Glass
Stainless Steel Frame and Tray
Double Indian Brass Burner: 070 mm + 090 mm
Rated Thermal Current (KW) : 4.5kW (3275g/h)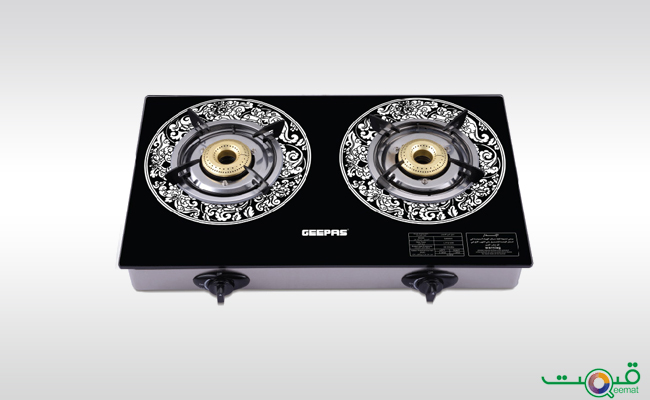 Model

GK6893

Price

Rs. 7,999

Geepas Double burner Gas cooker GK6893 Features
Auto ignition system : Yes
GAS Type : LPG
Product Size(mm) : 70 mm + 70 mm
Type : Double burner gas cooker
Gas type : G30
Auto Piezo ignition
LPG with 2800 pa
Low Gas Consumption
Heavy Cast Iron Mixing Tube
Fuel Efficient Brass Burners
Rated Gas Pressure : 28 - 30m Bar
8mm thickness Tempered Glass
Stainless Steel Frame and Tray
Double Indian Brass Burner: 70 mm + 70 mm
Rated Thermal Current (KW) : 2.0kW
Model

GK6895

Price

Rs. 9,999

Geepas GK6895 Double Gas Burner Stove Features
Unique design
Longer life with original brass burner cap
Better flame for faster cooking
High efficiency for saving energy
Indian Burner saves Gas 60%
Geepas Gas Cooker Review
Using a match box to ignite a burner on the cooking range in a home with toddlers and little children is not free from danger. What if a child takes a matchstick, puts it in the mouth and tries to engulf it? Secondly, what will you do when you want to cook something and can't find the match box? A convincing answer to these questions is: "Go for a better alternative."
Already known for high quality and affordable microwave ovens, Geepas offers a wide range of gas stoves and cookers. They are equipped with the latest tech standards to render better performance and convenient handling. For example, the Geepas Gas Hop is equipped with seamlessly working auto ignition system that consumes LPG (Liquid Petroleum Gas) as its fuel. It completely eliminates the need for and dependence on a match box.
It has three burners and each burner utilizes double Indian brass burner technology. It is to heat the cooking pot evenly across its bottom for smooth and efficient cooking, while preserving the deliciousness of the food being cooked. On the other hand, the advantage of having three burners is that you can cook three dishes simultaneously, while saving a lot of your precious time.
Diversity at Geepas Cookers:
Geepas store has a great variety of cookers to cater to the taste and needs of all types of users. Different types of cookers include Single Spiral Hot Plate, Stainless Steel Double Hot Plate, Digital Infrared Cooker, Glass Gast Stove, Glass Gas Stove with two infrared burners, 3D Styled Gas Burner, Double Burner Gas Cooker, and so on. For each type, there are further different variants.
Concerning the Geepas gas cooker price in Pakistan, even the most expensive model is priced well below twenty thousand rupees. And you can get a high quality Single Spiral Hot Plate cooker for as low as five thousand rupees – GHP7570. It has two hotplates, one measuring 155 mm while the other 188 mm. The cooker has a rust-resistant, stainless steel body that has the feature of heat control.
Meanwhile, the overheat protection system will prevent overheating of the plates, thus avoiding burning of the food being cooked.
GK73, one of the costliest gas cookers from the house of Geepas, offers electronic ignition system. It is a heavy-duty cooking range with two burners, collectively consuming 630 grams of gas per hour and giving the heat output of up to 7 KW.
Overall, as is the case with other products from the company, Geepas cookers can also be termed as durable, efficient and price effective.