Canon Digital Camera Price in Pakistan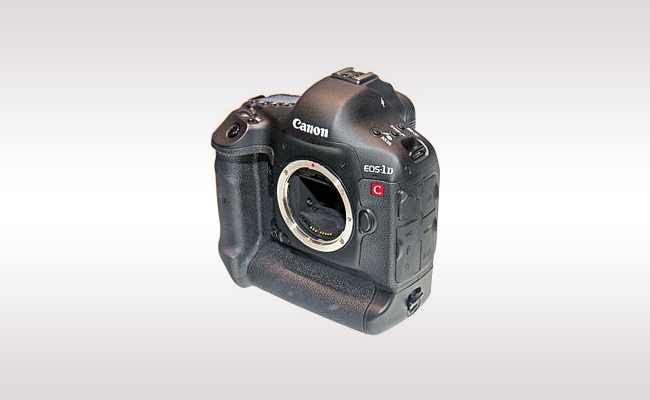 Model

EOS-1D-C

Prices

Rs. 905,999

Canon Eos 1D-C (Body Only) Features
4K 4096x2160 8-Bit 4:2:2 Cinematic Video
Canon Log with 12 Stops of Dynamic Range
Continuous Recording, No 29:59 Min Limit
Full HD 1080p Recording at up to 60fps
18.1MP CMOS Sensor
Dual CF Card Recording Media
Dual DIGIC 5+ Image Processors
3.2" LCD Screen
61-Point High Density Auto Focus
EF Lens Mount; Magnesium Alloy Body
Model

EOS-5DS

Prices

Rs. 269,999

Canon EOS 5DS Mark III DSLR Camera (Body Only) Features
22.3MP Full-Frame CMOS Sensor
DIGIC 5+ Image Processor
3.2" 1.04m-Dot ClearView II LCD Monitor
Full HD 1080p Video Recording at 30 fps
61-Point High Density Reticular AF
Native ISO 25600, Extended to ISO 102400
63-Zone Dual Layer Metering Sensor
6 fps Shooting in RAW+JPEG
14-Bit RAW Files and S-RAW Format
Magnesium Alloy Body, SD/CF Card Slots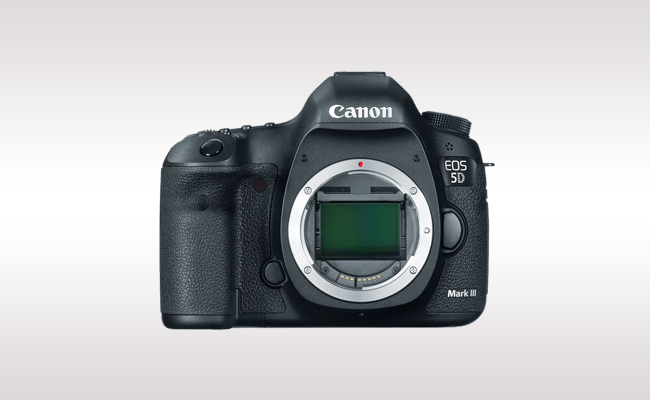 Model

5D Mark III

Prices

Rs. 236,999

Canon Eos 5D Mark III (Only Body) Features
EF 24-105mm f/4L IS USM Lens
22.3 MP Full-Frame CMOS Sensor
DIGIC 5+ Image Processor
3.2" 1.04m-Dot Clear View II LCD Monitor
Full HD 1080p Video Recording at 30 fps
61-Point High Density Reticular AF
Native ISO 25600, Extended to ISO 102400
63-Zone Dual Layer Metering Sensor
6 fps Shooting in RAW+JPEG
14-Bit RAW Files and S-RAW Format
Magnesium Alloy Body, SD/CF Card Slots
Model

5D Mark III

Prices

Rs. 295,999

Canon Eos 5D Mark III 24-105mm Features
EF 24-105mm f/4L IS USM Lens
22.3 MP Full-Frame CMOS Sensor
DIGIC 5+ Image Processor
3.2" 1.04m-Dot Clear View II LCD Monitor
Full HD 1080p Video Recording at 30 fps
61-Point High Density Reticular AF
Native ISO 25600, Extended to ISO 102400
63-Zone Dual Layer Metering Sensor
6 fps Shooting in RAW+JPEG
14-Bit RAW Files and S-RAW Format
Magnesium Alloy Body, SD/CF Card Slots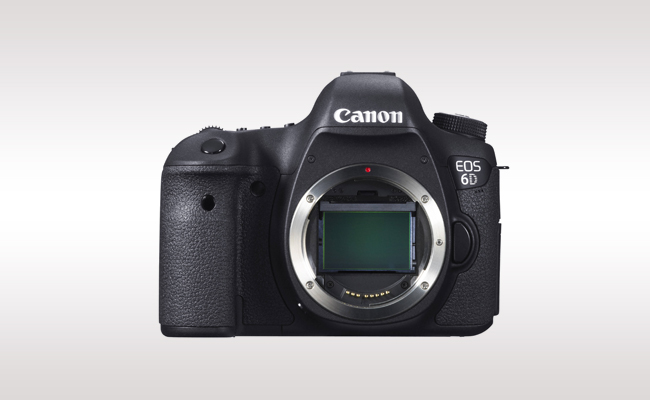 Model

EOS 6D

Prices

Rs. 130,999

Canon Eos 6D (Only Body) Features
20.2MP Full-Frame CMOS Sensor
DIGIC 5+ Image Processor
3.0" 1.04m-Dot Clear View II LCD Monitor
Full HD 1080p Video Recording at 30 fps
11-Point AF with Center Cross-Type Point
Native ISO 25600, Extended to ISO 102400
iFCL 63-Zone Dual Layer Metering Sensor
4.5 fps Shooting at Full Resolution
In-Camera HDR & Multiple Exposure Mode
Built-In Wi-Fi and GPS Connectivity
Model

EOS 6D (24-105mm)

Prices

Rs. 178,999

Canon Eos 6D 24-105mm Features
EF 24-105mm f/4 L IS USM Lens
Full-frame 20.2-megapixel sensor
Tough, lightweight construction
Max ISO 25,600 (expandable to ISO 102,400)
11-point AF sensitive down to -3EV
GPS records your location
3.0" 1.04m-Dot Clear View LCD Monitor
Full HD 1080p Video Recording at 30 fps
iFCL 63-Zone Dual Layer Metering Sensor
Built-In Wi-Fi and GPS Connectivity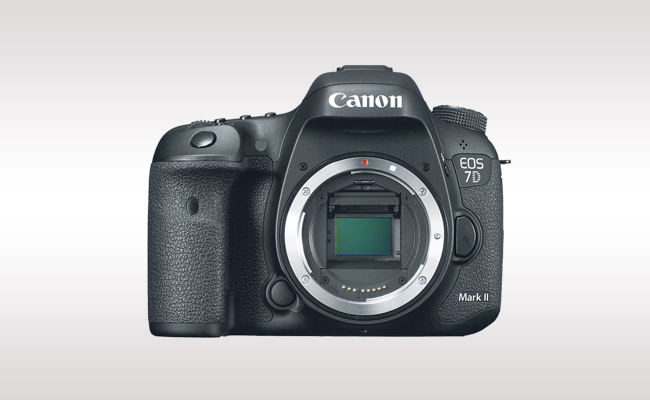 Model

EOS 7D

Prices

Rs. 126,499

Canon Eos 7D (Body Only) Features
20.2MP APS-C CMOS Sensor
Dual DIGIC 6 Image Processors
3.0" 1.04m-Dot Clear View II LCD Monitor
Full HD 1080p/60 Video & Movie Servo AF
Dual Pixel CMOS AF with Live View
65-Point All Cross-Type Phase-Detect AF
Native ISO 16000, Extended to ISO 51200
10 fps Shooting at Full Resolution
Built-In GPS Receiver & Digital Compass
Magnesium Alloy Body Construction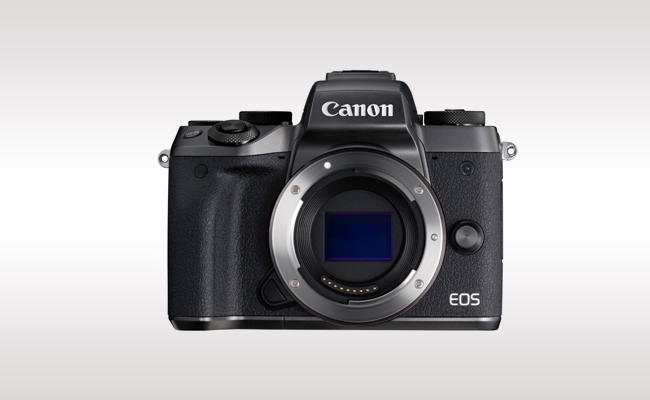 Model

EOS-M5

Prices

Rs. 96,499

Canon EOS-M5 Features
24.2 Megapixel APS-C size sensor
Powerful DIGIC processing
Smoother tonal gradations
Fast, accurate focussing
Shoot at 7 fps with Servo AF
Ready to shoot in just 1 second
Smooth, realistic movies of action
Av, Tv and ISO control in movies
Steady movies even with non-IS lens
Use touchscreen to switch AF point
Capture dramatic, high contrast scenes
Utilise full range of EF lenses via mount adapter
Model

EOS-M5

Prices

Rs. 132,799

Canon EOS M5 18-150mm Features
24.2 Megapixel CMOS (APS-C) sensor, ISO 100-25600
Full HD 60p helps capture fast-moving subjects and brilliant results in MP4 format
Intuitive touch screen 3.2 tilt-type (85° up/180° down) LCD monitor (approx. 1,620,000 dots)
Equipped with Bluetooth®**** for smooth pairing with a compatible smartphone
High-speed continuous shooting at up to 7.0 fps (up to 9.0 fps with AF Lock)
Compatible with EF-M lenses as well as the full line of EF and EF-S lenses^^^ and Speedlites for expanded creativity.
Built-in Wi-Fi®** and NFC*** allows for easy sharing
Model

EOS 60D

Prices

Rs. 71,999

Canon Eos 60D (Body Only) Features
18MP APS-C CMOS sensor
ISO 100-6400 (expandable to 12,800)
5.3 fps continuous shooting
1080p HD video recording with manual controls
SD / SDHC / SDXC storage
Subject modes with 'Ambience Selection' (Standard, Vivid, Soft, Warm, Intense, Cool, Brighter, Darker and Monochrome)
Fully articulated 3.0" screen (3:2)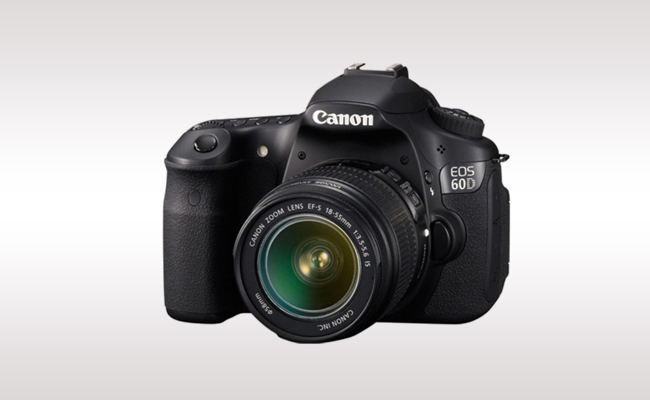 Model

60D 18-55 mm

Prices

Rs. 89,999

Canon Eos 60D 18-55 mm Features
18.0 Megapixel CMOS sensor and DIGIC 4 Imaging Processor
ISO 100 - 6400 (expandable to 12800)
Improved EOS HD Video mode with manual exposure control
Vari-angle 3.0-inch Clear View LCD monitor
5.3 fps continuous shooting up to approx. 58 Large/JPEGs and 16 RAW
Enhanced iFCL 63-zone, Dual-layer metering system; and 9-point AF
Compatibility with SD/SDHC/SDXC memory cards
Compatible with the full line of Canon EF and EF-S lenses
Model

60D 18-135 mm

Prices

Rs. 97,999

Canon Eos 60D 18-135 mm Features
18.0 megapixel APS-C size CMOS sensor
High-speed continuous shooting at 5.3 frames per second with burst of up to 58 JPEG / 16 RAW
Digic 4 Imaging Processor`s 14-bit A / D
EOS movie, Full HD (1920 x 1080)
ISO 100 - 6400 (expandable to 12800)
9-pt all cross-type AF sensors
High Resolution wide 3.0" Vari-angle LCD monitor
Wireless mutli-flash function without external master
Full HD digital output for viewing still images on HDTV
Enhanced EOS Integrated Cleaning System with fluorine coating on low pass filter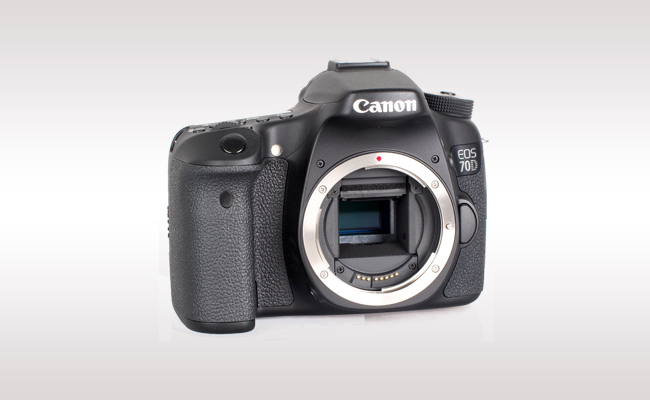 Model

EOS 70D

Prices

Rs. 92,999

Canon Eos 70D (Body Only) Features
20.2MP APS-C 'Dual Pixel CMOS AF' sensor
DIGIC 5+ image processor
ISO 100-12800 standard, 25600 expanded
7fps continuous shooting, burst depth 65 JPEG / 16 Raw
1080p30 video recording, stereo sound via external mic
19-point AF system, all points cross-type, sensitive to -0.5 EV
63-zone iFCL metering system
98% viewfinder coverage, 0.95x magnification, switchable gridlines and electronic level display
Fully-articulated touchscreen, 1040k dot 3" ClearView II LCD, 3:2 aspect ratio
Built-in Wi-Fi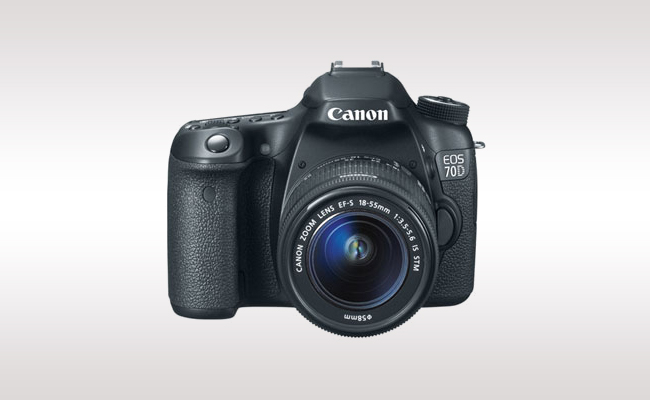 Model

70D 18-55 mm

Prices

Rs. 98,499

Canon Eos 70D 18-55 mm Features
20.2MP APS-C CMOS Sensor
DIGIC 5+ Image Processor
3.0" 1.04m-Dot Vari-Angle Touchscreen
Full HD 1080p/30 Video & Movie Servo AF
Dual Pixel CMOS AF with Live View
19-Point All Cross-Type Phase-Detect AF
Native ISO 12800, Extended to ISO 25600
7 fps Shooting at Full Resolution
Built-In Wi-Fi Connectivity
EF-S 18-55mm f/3.5-5.6 IS STM Lens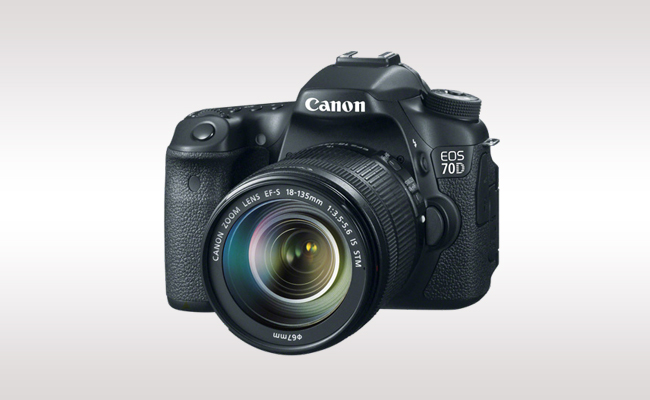 Model

70D 18-135 mm

Prices

Rs. 115,999

Canon Eos 70D 18-135 mm Features
20.2 MP APS-C CMOS sensor and DIGIC 5+
19 point cross-type AF System
Up to 7 fps shooting
ISO 100-12800, expandable to 25600
Dual Pixel CMOS AF for fast focus in live view and video
3" articulating touch panel LCD screen with 1,040,000 dots
Built-in flash with integrated speedlite transmitter and hot shoe
1080 (30, 25, 24 fps) and 720 (60, 50 fps) HD video (H.264/MPEG-4/MOV)
Instant sharing and remote control with built-in Wi-Fi and EOS Remote app
Built-in stereo or external microphone terminal
Model

100D 18-55 mm

Prices

Rs. 36,499

Canon Eos 100D 18-55 mm Features
Auto Focus: Hybrid
Optical Sensor Type: CMOS
Auto Focus Features: Predictive Focus Control
ISO (Max): 25600
3 inch TFT Color Capacitive Touch Liquid-crystal Monitor
18.0 megapixels camera
Auto-focus modes: 9-point (1 cross-type)
Built-in wireless flash control
Battery Li-ion (380 shots)
Model

600D (18-55mm) IS

Prices

Rs. 45,899

Canon 600D 18-55 IS II Lens Features
18 megapixels CMOS image sensor
Scene Intelligent Auto mode
Full-HD EOS Movie
On-screen Feature Guide
3.7fps continuous shooting
Wide-area 9-point AF
1,040k-dot vari-angle 3.0-inch LCD
Built-in wireless flash control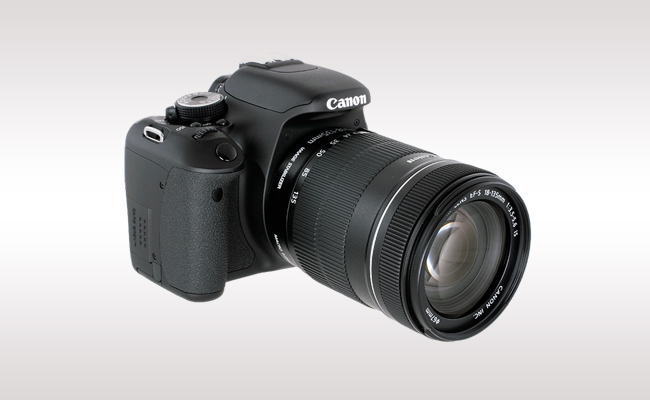 Model

600D (18-135mm) IS

Prices

Rs. 72,999

Canon Eos 600D 18-135mm Features
Approx. 18.0 megapixels
9 AF points (f/5.6 cross type at centre, extra sensitivity at f/2.8)
AUTO (100-6400), 100-6400 Expandable to H (approx 12800) in 1-stop increments
Vari angle 7.7cm (3.0") 3:2 Clear View TFT, approx. 1040K dots
Stunning 1080p movies
Continous shooting 3.7 Frames per second
Apply creative effects to your images
Battery (440 Shots)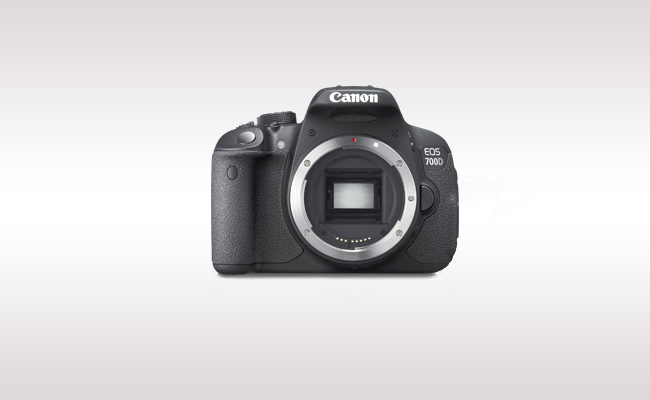 Model

EOS 700D

Prices

Rs. 44,999

Canon Eos 700D (Body Only) Features
18-megapixel Hybrid CMOS AF sensor
Continuous shooting at 5 fps for bursts of up to 22 shots
7.7cm (3.0") 3:2 ratio Clear View LCD II Touch screen
1080p at 30, 25 and 24fps
ISO 100-12800 (extendable to ISO 25600).
Canon EF / EF-S lens mount
Light weight body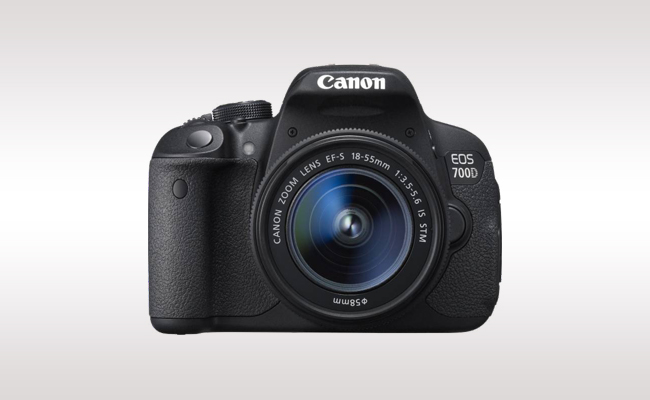 Model

700D 18-55 mm

Prices

Rs. 52,899

Canon Eos 700D 18-55 mm Features
18-megapixel
Video shoot at 1080p resolution
ISO 100-12800 (up to ISO 25600)
SD/SDHC/SDXC Storage
Canon lens mount EF/EF-S
All Cross-type 9 Point AF System
3.0" Touch Screen
Battery Li-ion LP-E8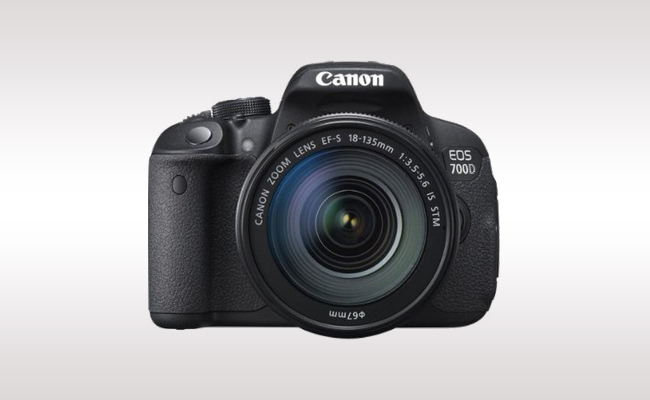 Model

700D 18-135 mm

Prices

Rs. 69,999

Canon Eos 700D 18-135 mm Features
18.0 Megapixel Hybrid CMOS AF sensor
Creative Full-HD movies and Hybrid CMOS AF
Vari-angle 3.0" Clear View LCD II Touch screen, Scene Intelligent Auto
ISO 100-12800 sensitivity, expandable to ISO 25600, 7 Creative filters with live preview
5 fps shooting 9-point AF system, EOS System of lenses and accessories
Battery Li-ion LP-E8
Storage SD/SDHC/SDXC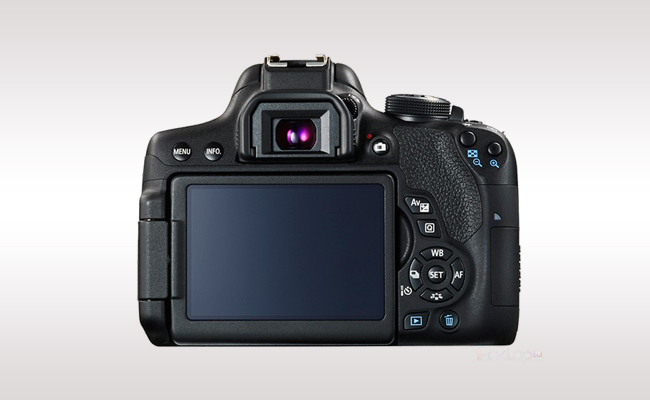 Model

750D

Prices

Rs. 74,750

Canon EOS 750D DSLR Camera Features
24.2 megapixel
CMOS image sensor
DIGIC 6 image processor
TFT colour liquid-crystal monitor
7 levels of manual brightness adjustment
ISO sensitivity: Auto ISO 100 - ISO 6400
19 cross-type AF points for focusing, f/2.8 at centre (except with the EF28-80mm f/2.8-4L USM and EF50mm f/2.5 compact macro)
Wifi Connectivity And NFC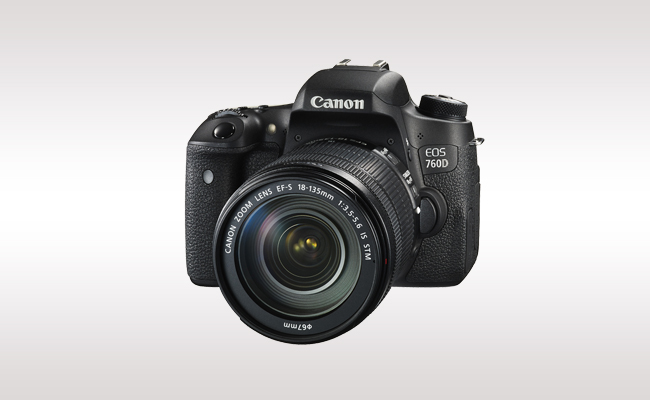 Model

760D (18-135mm) IS

Prices

Rs. 95,999

Canon EOS 760D 18-135mm Features
24.2 Megapixel (APS-C) CMOS sensor
Canon DIGIC 6 Image Processor
Superior image quality
Hybrid CMOS AF III and Touchscreen LCD
Advance user's interface
All cross-type 19-point AF
Wi-fi and NFC supported
Battery Pack LP-E17 (Quantity 1)
Canon EF lenses (including EF-S lenses)
SD / SDHC* / SDXC* memory cards
TFT color liquid-crystal monitor, Wide, 7.7cm (3.0in.) (3:2) with approx. 1.04 million dots
1/4000 sec. to 30 sec shutter speed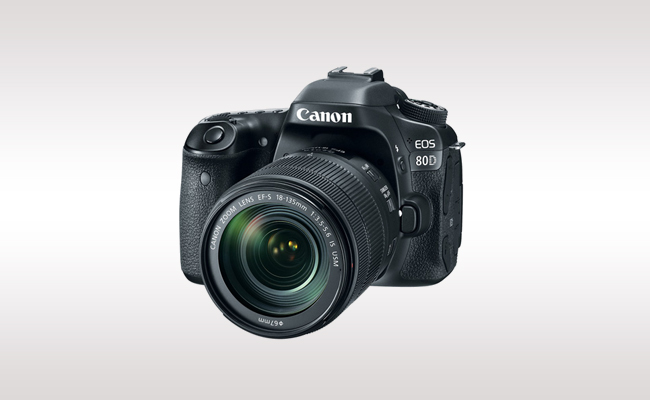 Model

80D 18-135mm

Prices

Rs. 105,999

Canon EOS 80D 18-135mm Features
24.2MP APS-C CMOS Sensor and DIGIC 6 Image Processor
45-Point All Cross-Type AF and Dual Pixel CMOS AF Systems
Full HD 1080p Video Recording
Body Design and Built-In Wi-Fi with NFC
3.0" 1.04m-dot ClearView II touchscreen LCD
EF-S 18-135mm f/3.5-5.6 IS USM Lens
Applicable to long exposures and high ISO speed shots
Battery Pack LP-E6N / LP-E6, quantity 1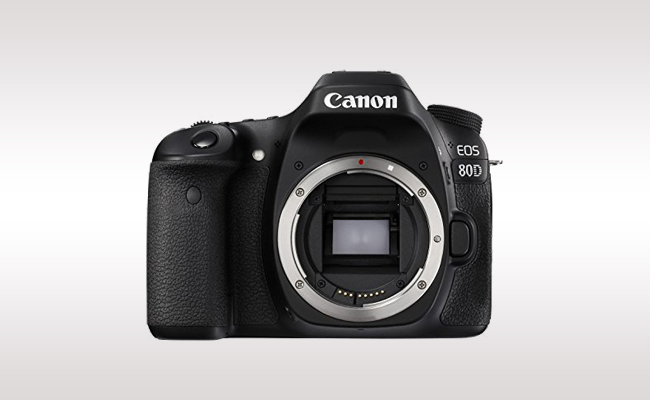 Model

80D 18-200mm

Prices

Rs. 142,999

Canon EOS 80D 18-200mm Features
18 megapixels CMOS image sensor
Scene Intelligent Auto mode
Full-HD EOS Movie
On-screen Feature Guide
3.7fps continuous shooting
Wide-area 9-point AF
1,040k-dot vari-angle 3.0-inch LCD
Built-in wireless flash control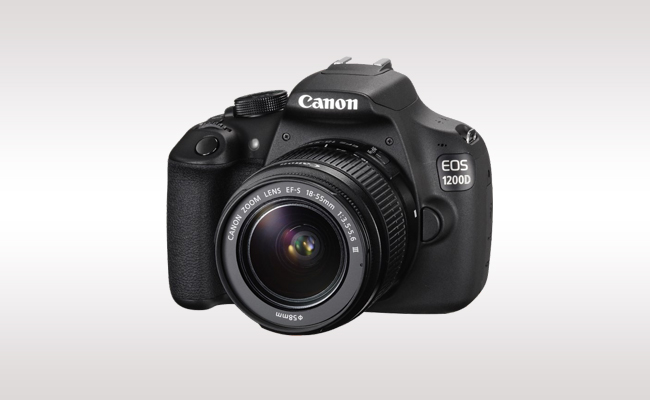 Model

1200D 18-55mm

Prices

Rs. 35,499

Canon Eos 1200D 18-55mm Features
18 megapixel CMOS (APS-C) image sensor
High-performance DIGIC 4 image processor
ISO 100-6400 (expandable to H: 12800) to shoot from bright to dim light
EOS full HD movie mode to capture brilliant results
Scene intelligent auto mode to deliver expertly optimized photos
9-point AF system (including one center cross-type AF point) and AI servo
EOS 1200D digital SLR body
1 rechargeable lithium-ion LP-E10 battery
18-55mm and 55-250mm IS lens
Include 8GB card and camera bag
Model

1300D 18-55mm

Prices

Rs. 38,999

Canon Eos 1300D 18-55mm Features
18 MP APS-C CMOS sensor and DIGIC 4+
9-point AF with one center cross-type AF point
Standard ISO: 100 to 6400, expandable to 12800
Wi-Fi and NFC supported
Lens Mount: Canon EF mount
Wide-area 9-point AF
Approx. 7.5cm (3.0in.) (4:3) with approx. 920,000 dots
Battery Pack LP-E10 (Quantity 1)
Model

Ixus-255

Prices

Rs. 19,700

Canon Ixus-255 - HS Digital Compact Camera Features
Continuous Shooting Mode
Face Detection, Wink Detection, Smile Detection, Orientation Sensor
Battery Size Supported: Proprietary Battery Size
Maximum Video Resolution: 1920 x 1080
Wireless LAN: Yes
Effective Camera Resolution: 12.1 Megapixel
Wide Angle: Yes
USB: Yes
Model

PowerShot A800

Prices

Rs. 8,200

Canon A800 Digital Camera Features
10.0 Megapixels
3.3x optical zoom lens
2.5 Inches LCD
Smart Auto mode, Blur Reduction Mode
Easy to use design
16 Shooting modes including FaceSelf-Timer
Long Play Movies
Alkaline Battery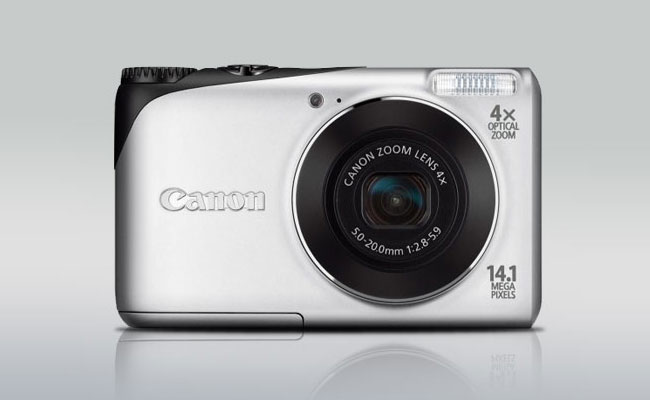 Model

PowerShot A2200

Price

Rs. 12,800

Canon A2200 Digital Camera Features
14.1 Megapixels
4x optical zoom lens
2.7 Inches LCD
Smart Auto, Easy mode and Hints & Tips
HD Movies (720p)
Live View Control and Creative Filters
Face Detection, Auto Red-Eye Correction
Li-ion Battery
Model

PowerShot A3200

Price

Rs. 13,900

Canon A3200 Digital Camera Features
14.1 Megapixels
5x optical zoom lens
2.7 Inches LCD
Smart Auto, Easy mode and Hints & Tips
HD Movies (720p) with Dynamic IS
Optical Image Stabilizer
Face Detection, Auto Red-Eye Correction
Li-ion Battery
Model

IXUS 115HS

Price

Rs. 16,500

Canon IXUS 115HS Digital Camera Features
12.1 Megapixels, HS System
4x Optical Zoom Lens with Optical IS
3.0″ PureColor II G LCD
Smart Auto (32 scenes)
High-speed Burst & Super Slow Motion Movie
Creative Shooting Modes
Optional Waterproof Cases
Li-ion Battery
Model

PowerShot A3300

Price

Rs. 17,700

Canon A3300 Digital Camera Features
16.0 Megapixels, HS System
5x Optical Zoom Lens with Optical IS
3.0″ PureColor II G LCD
Smart Auto (32 scenes)
Face Detection, Auto Red-Eye Correction
Creative Shooting Modes
Optical Image Stabilizer
Li-ion Battery
Canon Digital Cameras Review
Brief Intro:
Already having achieved par excellence in a wide range of imaging and optical products, Canon is a Japanese multinational corporation that has been catering to the very needs of the global fans for previous many decades. All the products, including printers, photocopiers, steppers, medical equipment, camcorders as well as super quality cameras are reputed for being masterpieces of artistic and technical perfection. Talking of the Canon digital camera price in Pakistan, it varies from model to model and among a wide range of available models, there include PowerShot A800, PowerShot A2200, PowerShot A3200, IXUS 115 HS, and PowerShot A3300. In case, you have made your mind to possess an advanced camera with smart features, just go through the remainder of the post.
Canon versus Nikon:
Besides Canon, the world's digital SLR market also has another great player, namely, Nikon. Here the latter is also a Japanese multinational corporation that is specialized in optics and imaging products and is headquartered in Tokyo, Japan. The first ever Single Lens Reflex camera (SLR) from the house of Nikon made its appearance as early as 1956. Now both the brands are bitter rivals in the international market and pose a serious challenger for each other. Moreover, as is the case elsewhere with other competing brands, both Nikon and Canon have positive as well as negative aspects. In certain respects, the former achieves excellence over the latter, while in other respects the latter enjoys superiority over the former.
Distinction, Specs and Price Factor:
What makes Canon enjoy superiority over the rival brands is the low Canon digital camera price in the market; high standard features; ease of portability and convenient handling. Taking into account the PowerShot A800 digital camera, it comes embellished with 10 megapixels, 2.5 inches LCD and as many as 16 shooting modes including the FaceSelf-Timer. It is also categorized among the least expensive models, thus adding to its ease of affordability and access for all and sundry. The most powerfully featured and thus the most expensive version is the PowerShot A3300. Along with 16 megapixels support, HS system, and 5x optical zoom, it brings you 3" PureColor II G LCD and wonderfully creative shooting modes.
HD Recording and Super Slow Motion Movie:
The majority of the modern Canon digital cameras are capable of recording high definition videos, so that the users can preserve the memorable moments of their life in even better than the original form. Another great advancement is that of the high-speed burst & super slow motion movie. In this way, you will have a very unique and tastefully funny experience with your digital companion.
Creative Filters and Live View Control:
If you want to buy Canon digital camera with intermediate price, the PowerShot A2200 will serve you the best. In addition to its support for 14.1 megapixels and full HD video recording, it contains the additional features, like "Creative Filters" and "Live View Control" which collectively render lifelike qualities to your stills and motion pictures. Further cutting edge accomplishments appear in the form of "Auto Red-Eye Correction", "Face Detection", "Easy Mode", "Smart Auto", "Hints and Tips", "4x Optical Zoom Lens", and the like.
Bottom Line:
Founded in 1937, Canon has a very long tradition of providing smart, stylish and high quality products to the global customers and has made significant contribution in bringing revolution in the field of optics and imagining. Whether you buy a high end or a low end Canon digital camera, it will give you a sense of pleasure and satisfaction, thus proving to be a reliable digital gadget. Wishing you the best of luck!