Samsung Microwave Oven Prices in Pakistan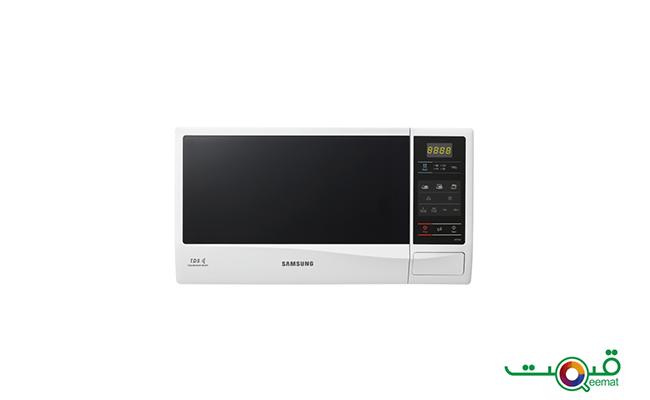 Samsung ME-732K Free Standing Microwave Oven 20L
Samsung Microwave Scratch Resistant it's durable
LED Display
Energy Efficient
Auto Cook Option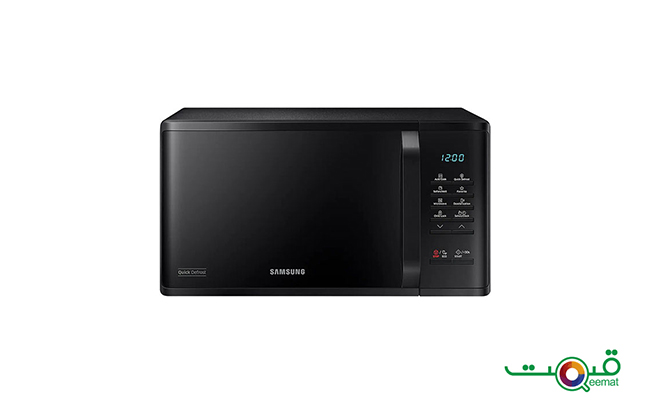 Samsung Microwave Oven MS23K3513 23 LTR
Quick Defrost for fast thawing of meat
Auto Cook programme for easy cooking
Energy Efficient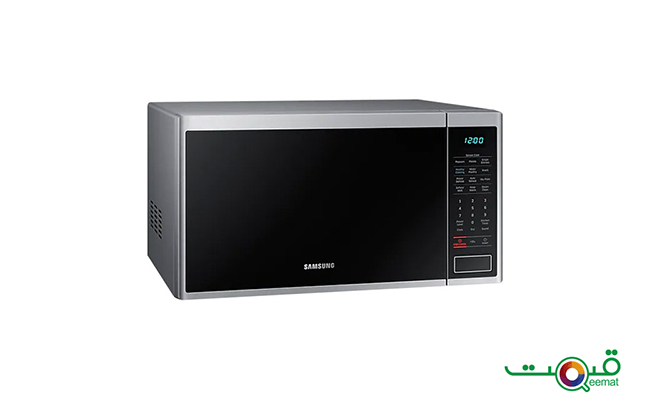 Samsung Microwave Oven MS40J5133BT
Keep Warm Function
Large 40L Capacity
Ceramic enamel interior
Shine Grill Microwave MG402MADXBB
Luxurious Black Mirror Design
Large 40L Capacity
Let your microwave be the chef
Old And Discontinued Models
Company

Samsung

Model

Samsung ME732K Microwave Oven

Prices in Pakistan

Rs. 20,390

Features
Capacity 20 Liters
Colour White
Fit for Any Kitchen Space
Slim size exterior takes up less space
No Corner, No Dirt
Wipe the cavity round
cleaning is very easy with no spots left.
LED display Given
Control Method: Membrane
Power Output: 800W
Fuel: Electric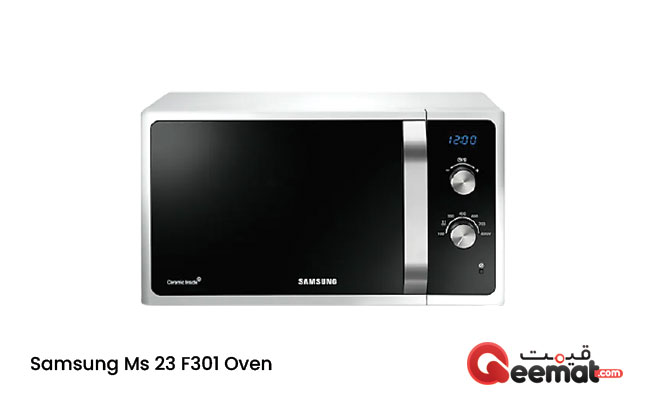 Company

Samsung

Model

Samsung MS23F301 Microwave Oven

Prices in Pakistan

Rs. 23,390

Features
Capacity 23 Liters
Colour Silver/Black
Hot Stamping Handle
Surmounted Window
Ice Blue Display Given
Knob Fitted
Grill No
Keep It Clean with Ceramic: Anti-bacterial Activity
Easy To Clean, Scratch Resistant, Prevents Discoloration
Save Money with ECO Mode: The ECO Mode setting Given - lowest standby power consumption, significantly reducing power usage to save on energy bills
Cooked to Perfection: Achieve perfectly cooked dishes every time thanks to the Triple Distribution System
Control Method: Membrane
Power Output: 800 Watts
Fuel: Electric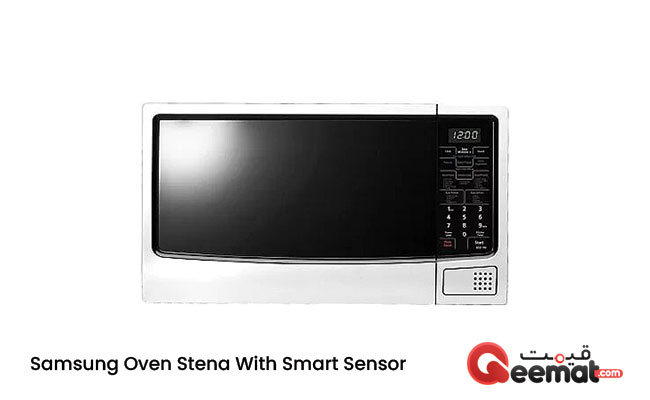 Company

Samsung

Model

Samsung Oven STENA with Smart Sensor OTR

Prices in Pakistan

Rs. 25,000

Features
Capacity 32 Liters
Colour White/Black
Door Type Side swing fitted
Display Type LED Fitted
Clock Given
Defrost (Auto / Power / Sensor) Yes
Child Safety Lock: Yes
Sensor Cook: Yes
Eco Mode: Yes
Kitchen Timer Given
Control Method: Membrane
Power Output: 1,500 W
Fuel: Electric
Company

Samsung

Model

Samsung Solo Mirror Microwave Oven MS405MADXBB/SG

Prices in Pakistan

Rs. 27,999

Features
Capacity 40 Liters
Colour Silver Gray
Luxurious Black Mirror Design Given
Ceramic inside Fitted
Energy Saving: Yes
Door opening type: Button Fitted
Grill Heater: No
Sensor Cook: Yes
Auto cook: Yes
Reminder end signal: Yes
Child Safety Lock: Yes
Max Cooking time: 99 minutes 99 seconds
Control Method: Membrane
Power Output: 1,000 W
Fuel: Electric
Company

Samsung

Model

Samsung ME6124ST1 Smart Inverter MWO

Prices in Pakistan

Rs. 34,999

Features
Capacity 34 Liters
Colour Silver Gray
Respect Natural Texture and Original Taste
Humidity Sensor Given
Easier Access to Healthy Cooking Given
Easily cook everything - from green beans to brown rice etc.
Superior Ceramic Interio: No more scrubbing or scratched surfaces
This ceramic interior cavity is anti-bacterial and scratchresistant, providing long-resistant
Standby Energy Saving Fitted
Door Type: Side Swing with Push Button Given
Display Type: LED Fitted
Clock: Yes, Sensor Cook: Yes, Kitchen Timer: Yes
Child Safety Lock: Yes
Control Method: Membrane
Power Output: 1,000 W
Fuel: Electric
Company

Samsung

Model

Samsung Glass Mirror (MG402MADXBB) MWO

Prices in Pakistan

Rs. 40,000

Features
Capacity 40 Liters
Colour Black
Easy to use
Energy Saving
Innovative distribution
Luxurious Black Mirror Design Made
Heat Source Grill Given
Display Type: LED Fitted
Various Cooking Mode: Yes
Max Cooking Time: 99 min 90 sec (Microwave)
Auto Cook: Yes
Door Opening Type: Button Fitted
Child Safety Lock: Yes
Control Method: Membrane
Power Output: 1,500 W
Fuel: Electric
Company

Samsung

Model

Samsung MG40J5133AT MicroWave Oven

Prices in Pakistan

Rs. 39,900

Features
Capacity 40 Liters
Colour Silver
Deodorization: Yes
Child Safety Lock: Yes
Kitchen Timer: Yes
Sound on/off: Yes
Door Type: Push Button Fitted
Display: LED (Ice Blue) Given
Clock: Yes
Eco Mode: Yes
Defrost (Auto / Power / Sensor): Power Defrost
Power Level: 10
Control Method: Membrane
Power Output: 1,500 W
Fuel: Electric
Company

Samsung

Model

Samsung Oven Grill MG402MADXBB/SG

Prices in Pakistan

Rs. 40,000

Features
Capacity 40 Liters
Colour Silver Gray
Luxurious Black Mirror Design
Energy Saving
Innovative distribution
Ceramic inside Given
DisplayType LED Fitted
Door opening type Button Given
Various Cooking mode: Yes
Grill Heater: Yes
Max Cooking time: 99 minutes 90 seconds (Microwave)
Auto Cook Yes
Child Safety lock: Yes
Sound Option: Yes
Power Output: 1,500 W
Fuel: Electric
Company

Samsung

Model

Samsung ME6194ST Latin Solo MWO with Smart Sensor

Prices in Pakistan

Rs. 44,900

Features
Capacity 54 Liters
Colour Black/Silver
Smart Sensor Fitted
Triple Distribution System
10 power levels
One Touch Perfection.
Display Type: LED Given
Cavity interior: Ceramic Enamel
Control method: Touch Control
Door opening type: Push Button Fitted
Various Cooking Modes: Given
Max Cooking time: 99 Minutes 99 Seconds
Auto cook: Given
Child Safety Lock: Given
Power Output: 1,000 Watts
Fuel: Electric
Company

Samsung

Model

Samsung MG402MADXBB Smart Inverter Microwave Oven

Prices in Pakistan

Rs. 39,999

Features
Capacity 40 Liters
Colour Silver
Luxurious Black Mirror Design
Energy Saving
Innovative distribution
Power Level: 10
Display Type: LED Given
Cavity interior: Ceramic Enamel
Control method: Membrane
Door opening type: Button Fitted
Various Cooking Modes: Given
Max Cooking time: 99 Minutes 99 Seconds
Auto cook: Given
Child Safety Lock: Given
Reminder End Signal: Yes
Power Output: 950 Watts
Fuel: Electric
Model

MW86N-SK (Discontinued)

Price

Rs. 9,000

Samsung Microwave Oven MW86N-SK Features
Always at it's wow-it-looks-brand-new best
From frozen to fresh in no time
Child safety lock
0.8 cu.ft/23 Liter Capacity
Sound Option available
Three Waves are Better Than One
It's Crunch Time
Steamed to Perfection
Anti-bacterial Coating
Max Cooking Time 99 minutes
One min / 30 seconds Plus available
Clock available
End signal Sound available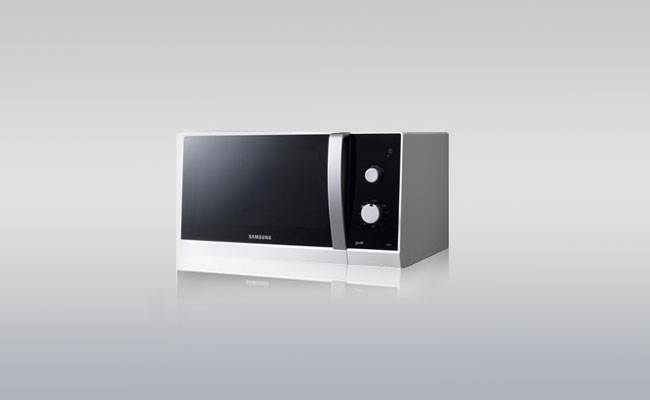 Model

MW102N-SK (Discontinued)

Price

Rs. 10,300

Samsung Microwave Oven MW102N-SK Features
Always at it's wow-it-looks-brand-new best
From frozen to fresh in no time
Sound Option available
Three Waves are Better Than One
It's Crunch Time
Steamed to Perfection
Anti-bacterial Coating
Max Cooking Time 60 minutes
Clock available
End signal Sound available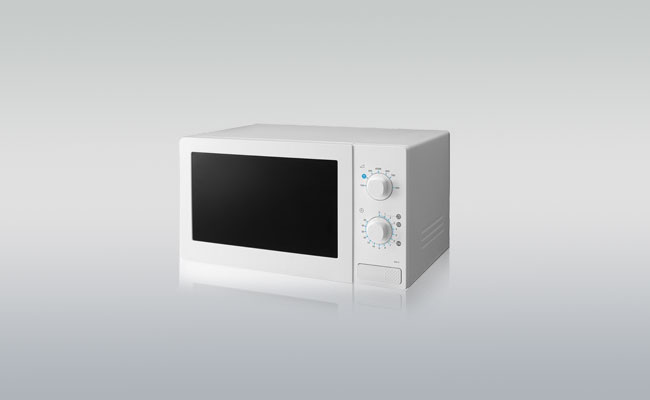 Model

MW71B-K (Discontinued)

Price

Rs. 7,000

Samsung Microwave Oven MW71B-K Features
Sense of Style is Extending
From frozen to fresh in no time
Push & Save
Fit for Any Kitchen Space
No Corner, No Dirt
Child safety lock
Cooking Time(Max.) 99 min 99 sec
Clock available
Sound Option available
End signal Sound available
Samsung Mirowave Oven Review
Why Looking for Microwaves?
Busy with a super paced life? Don't have enough time to stand all day in your kitchen and wait for things to get warm, cook or defrost? There is a perfect solution for you! Samsung has come up with some great microwave models which are not your typical food warming machines (microwaves) sitting in your kitchens. They offer much more than just warming your food.
The Trusted Brand:
Samsung has become a household name and there is no questioning on the reliability, durability and quality of this brand. Samsung produces many electronic products of everyday usage and has to offer some top of the line microwaves to add convenience to your life.
Key features of Ovens from Samsung:
Samsung offers a wide range of ovens which not only look beautiful to the eye but are packed with some great features to help decease your cooking time by a large margin, so you can spend that time relishing your food. Here are some key features for Samsung ovens that will make you want to own one for yourself!
Childproof:
Samsung oven are childproof. They come with a special lock system which keeps your little ones safe and protected from any damage.
Rapid Defrosting:
It helps you do away with the long hours of waiting for a frozen food to thaw. While other ovens take enough time to make the food soggy, Samsung offers rapid defrosting that takes only a little time to defrost and prevents the food from being mushy.
Hygiene:
The inside of the microwaves is coated with a pulverized elvan which is anti-bacterial and fights germs. This gives you an unprecedented hygiene and keeps you and the family fit and healthy.
Advanced Wave Distribution Tech:
The technologically advanced microwaves come with a three wave distribution technology rather than the conventional one wave distribution. This makes the food warm consistently and evenly cooked.
Power Saving:
The mirror MWO series is specially designed for power saving and ultimately your money by decreasing the otherwise hefty electricity bills.
Extra Protection:
The exterior is covered with aceramic enamel coat, which makes it more durable than the other brands using steel or plastic exteriors. The ceramic makes it durable and no matter how roughly your family uses it, it will not crack like plastic or rust or scratch like the stainless steel ones. It also makes it very easy to clean. All you need is a damp cloth to wipe it off and make it look sparkling new!
Smart Baking:
The crusty plate helps you to bake your favorite pizza with a crispy and crunchy base/crust. So bid farewell to the wet and undercooked pizza bases and say yes to great flavor, taste and convenience.
Enhanced Steaming:
Perfectly steamed vegetables for a healthy and a happy snack, salad, or a sandwich for the whole family in no time by using a simple steam box.
Variety of Models:
There is a wide variety of models, some with manual latch/handle for opening; some opening with a button; some are sized to fit the small kitchens; while others are grand for a big family and kitchen space.
Samsung offers something for everyone, If you are looking for getting yourself a new oven do check the extensive range of Samsung and find the perfect match for yourself!