EcoStar Inverter UPS Price, Capacity and Features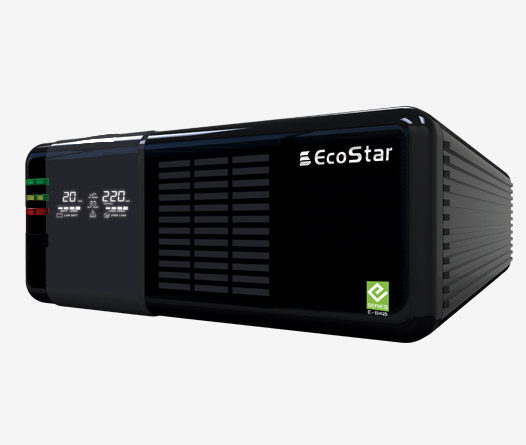 Model

E-840i

Prices

Rs. 7,900

EcoStar E-840i Inverter Features
2 Ceiling Fans & 5 Energy Savers or 3 Tube Lights
Load Calaculation: Energy Saver 20 Watt, Tube Lights 40 Watt, Fan 80 Watt
Input Range 230VAC / 50-60Hz
Voltage: 170-280 Vac for Narrow range mode 90-280 Vac for Wide range mode
Capacity 300 Watts
Battery Voltage 12 V
Noise Level less than 40dB
Alarm: Beep every 2 seconds on low battery, Beep every 0.5 seconds on Overload, Continuous Beep in case of any fault
Overload, Overcharge & Deep Discharge Protection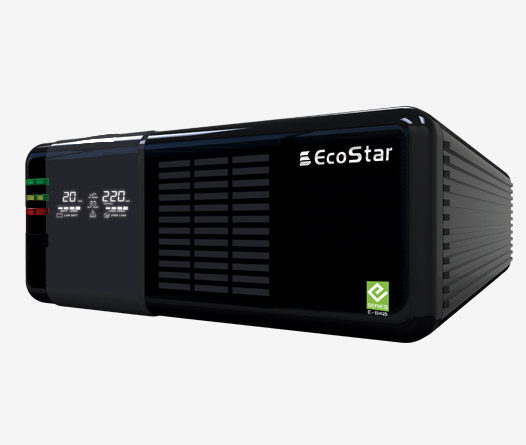 Model

E-1040i

Prices

Rs. 10,500

EcoStar E-1040i Inverter Features
4 Ceiling Fans & 8 Energy Savers
Load Calaculation: Energy Saver 20 Watt, Tube Lights 40 Watt, Fan 80 Watt
Input Range 230VAC / 50-60Hz
Voltage: 90-280Vac for Wide Range Mode 170-280Vac for Narrow Range Mode
Capacity 600 Watts
Battery Voltage 12 V
Noise Level less than 50dB
Alarm: Beep every 2 seconds on low battery, Beep every 0.5 seconds on Overload, Continuous Beep in case of any fault
Overload, Overcharge & Deep Discharge Protection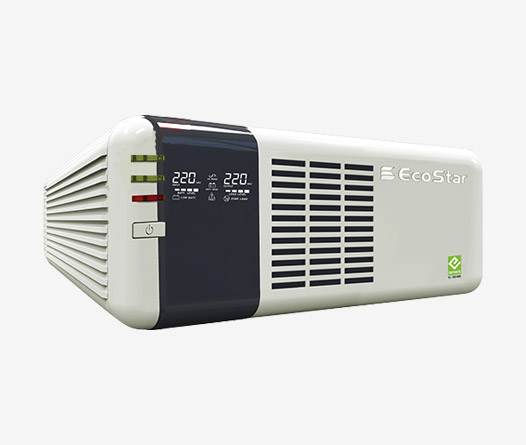 Model

E-1040i

Prices

Rs. 10,700

EcoStar E-1040i Inverter Features
4 Ceiling Fans & 8 Energy Savers
Load Calaculation: Energy Saver 20 Watt, Tube Lights 40 Watt, Fan 80 Watt
Input Range 230VAC / 50-60Hz
Voltage: 90-280Vac for Wide Range Mode 170-280Vac for Narrow Range Mode
Capacity 600 Watts
Battery Voltage 12 V
Noise Level less than 50dB
Alarm: Beep every 2 seconds on low battery, Beep every 0.5 seconds on Overload, Continuous Beep in case of any fault
Overload, Overcharge & Deep Discharge Protection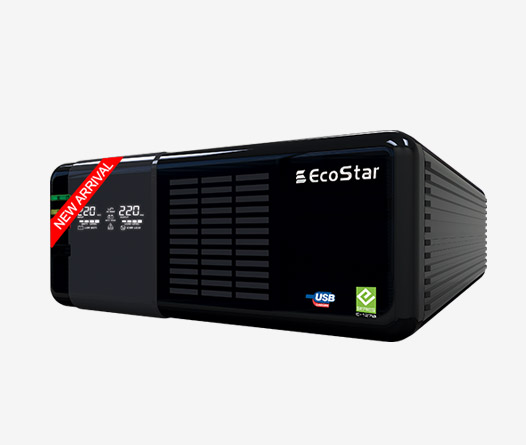 Model

E-1270i

Prices

Rs. 11,500

EcoStar E-1270i Inverter Features
6 Ceiling Fans & 10 Energy Savers or 5 Tube Lights
Load Calaculation: Energy Saver 20 Watt, Tube Lights 40 Watt, Fan 80 Watt
Input Range 230VAC / 50-60Hz
Voltage: 170-280 Vac for Narrow range mode and 90-280 Vac for Wide range mode
Capacity 700 Watts
Battery Voltage 12 V
LCD Display & LED Indicator
USB Mobile Charger
Alarm: Beep every 2 seconds on low battery, Beep every 0.5 seconds on Overload, Continuous Beep in case of any fault
Self-Sustaining on Board- Battery Reverse Polarity Protection
Over Temperature, Overload, Overcharge & Short Circuit Protection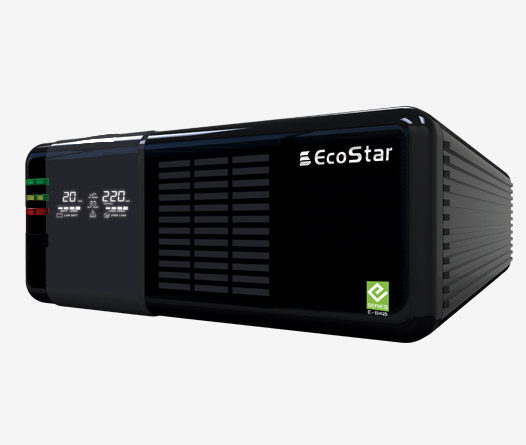 Model

E-1240i/E-720i

Prices

Rs. 12,600

EcoStar E-1240i/E-720i Inverter Features
6 Ceiling Fans & 12 Energy Savers or 6 Tube Lights
Load Calaculation: Energy Saver 20 Watt, Tube Lights 40 Watt, Fan 80 Watt
Input Range 230VAC / 50-60Hz
Voltage: 170-280 Vac for Narrow range mode 90-280 Vac for Wide range mode
Capacity 720 Watts
Battery Voltage 12 V
Noise Level less than 40dB
Alarm: Beep every 2 seconds on low battery, Beep every 0.5 seconds on Overload, Continuous Beep in case of any fault
Overload, Overcharge & Deep Discharge Protection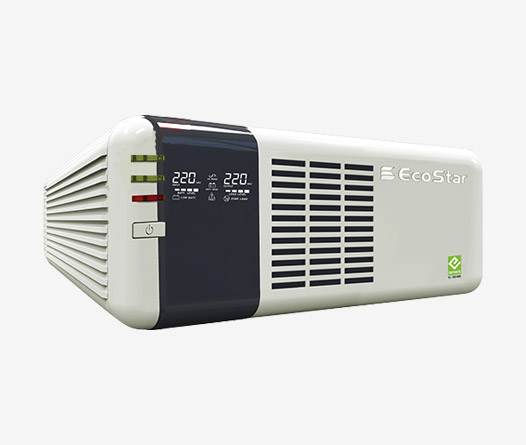 Model

E-1240i/E-720i

Prices

Rs. 12,850

EcoStar E-1240i/E-720i Inverter Features
6 Ceiling Fans & 12 Energy Savers or 6 Tube Lights
Load Calaculation: Energy Saver 20 Watt, Tube Lights 40 Watt, Fan 80 Watt
Input Range 230VAC / 50-60Hz
Voltage: 170-280 Vac for Narrow range mode 90-280 Vac for Wide range mode
Capacity 720 Watts
Battery Voltage 12 V
Noise Level less than 40dB
Alarm: Beep every 2 seconds on low battery, Beep every 0.5 seconds on Overload, Continuous Beep in case of any fault
Overload, Overcharge & Deep Discharge Protection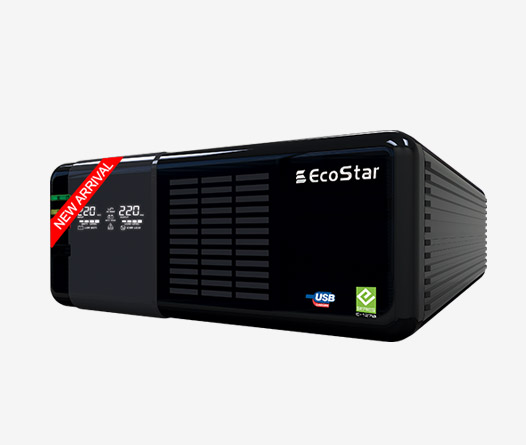 Model

E-1290i

Prices

Rs. 12,300

EcoStar E-1290i Inverter Features
7 Ceiling Fans & 25 Energy Savers or 8 Tube Lights
Load Calaculation: Energy Saver 20 Watt, Tube Lights 40 Watt, Fan 80 Watt
Input Range 230VAC / 50-60Hz
Voltage: 170-280 Vac for Narrow range mode and 90-280 Vac for Wide range mode
Capacity 900 Watts
Battery Voltage 12 V
LCD Display & LED Indicator
USB Mobile Charger
Alarm: Beep every 2 seconds on low battery, Beep every 0.5 seconds on Overload, Continuous Beep in case of any fault
Self-Sustaining on Board- Battery Reverse Polarity Protection
Over Temperature, Overload, Overcharge & Short Circuit Protection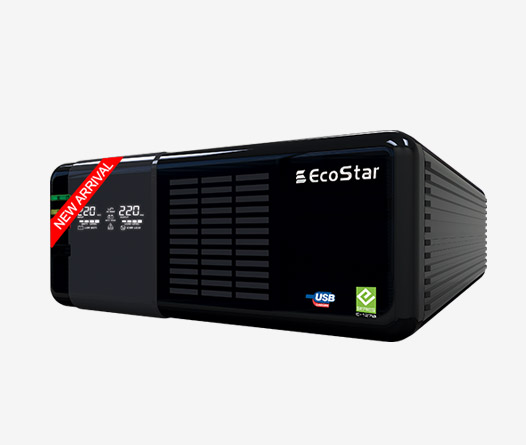 Model

E-2440i

Prices

Rs. 14,800

EcoStar E-2440i Inverter Features
10 Ceiling Fans & 30 Energy Savers or 15 Tube Lights
Load Calaculation: Energy Saver 20 Watt, Tube Lights 40 Watt, Fan 80 Watt
Input Range 230VAC / 50-60Hz
Voltage: 170-280 Vac for Narrow range mode and 90-280 Vac for Wide range mode
Capacity 1400 Watts
Battery Voltage 24 V
LCD Display & LED Indicator
USB Mobile Charger
Alarm: Beep every 2 seconds on low battery, Beep every 0.5 seconds on Overload, Continuous Beep in case of any fault
Self-Sustaining on Board- Battery Reverse Polarity Protection
Over Temperature, Overload, Overcharge & Short Circuit Protection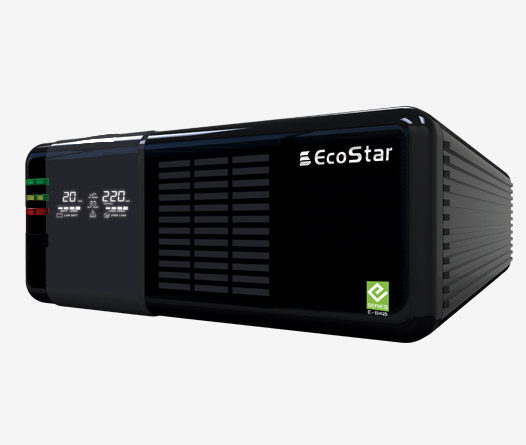 Model

E-1440i

Prices

Rs. 15,900

EcoStar E-1440i Inverter Features
10 Ceiling Fans & 32 Energy Savers or 16 Tube Lights
Load Calaculation: Energy Saver 20 Watt, Tube Lights 40 Watt, Fan 80 Watt
Input Range 230VAC / 50-60Hz
Voltage: 170-280 Vac for Narrow range mode 90-280 Vac for Wide range mode
Capacity 1440 Watts
Battery Voltage 24 V
Noise Level less than 40dB
Alarm: Beep every 2 seconds on low battery, Beep every 0.5 seconds on Overload, Continuous Beep in case of any fault
Overload, Overcharge & Deep Discharge Protection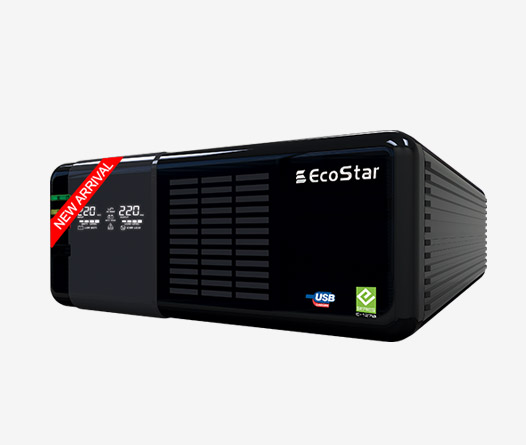 Model

E-2460i

Prices

Rs. 15,650

EcoStar E-2460i Inverter Features
15 Ceiling Fans & 35 Energy Savers or 18 Tube Lights
Load Calaculation: Energy Saver 20 Watt, Tube Lights 40 Watt, Fan 80 Watt
Input Range 230VAC / 50-60Hz
Voltage: 170-280 Vac for Narrow range mode and 90-280 Vac for Wide range mode
Capacity 1600 Watts
Battery Voltage 24 V
LCD Display & LED Indicator
USB Mobile Charger
Alarm: Beep every 2 seconds on low battery, Beep every 0.5 seconds on Overload, Continuous Beep in case of any fault
Self-Sustaining on Board- Battery Reverse Polarity Protection
Over Temperature, Overload, Overcharge & Short Circuit Protection
EcoStar UPS / Inverter Review
A UPS – Uninterrupted Power Supply – is a must-have appliance for all households and offices in Pakistan. This is because of the miserable electricity situation prevailing in the country. Frequent load-shedding and power failures in most parts of the country have turned an inverter UPS into a necessity. It supplies power during load-shedding sessions so that you can still avail lighting and cooling through light bulbs and fans. More powerful UPS devices also enable users to enjoy the luxury of television, computers as well as other appliances.
Ecostar is an emerging brand name with a wide range of high quality and affordable consumer products. It also offers a range of inverter UPS to fulfill the requirements of different households and offices. Ecostar inverter E-series is the perfect solution for the issue of load-shedding in the country. The series consists of various models featuring different traits and capabilities. Each model has a different Ecostar inverter price in Pakistan. These are discussed below in more detail.
E-840i
This Ecostar UPS model is the most affordable one as it covers the most basic requirements allowing the use of two fans along with 5 energy savers. The overall capacity of this model is 300 Watts while its battery voltage is 12 volts. It is perfect for a small family. The Ecostar inverter UPS price for E-840i is Rs. 7,900.
E-1040i
This model features double the capacity of E-840i. As a result, with 600 Watts, it powers up 4 fans along with 8 energy savers. The price of this model is Rs. 10,500. It is suitable for small to average sized families.
E-1270i
This Ecostar inverter is also suitable for average power requirements. Featuring a capacity of 700 Watts, it is capable of running 6 fans. In addition, ten energy savers or 5 tube lights are also supported. It costs Rs. 11,500.
E-1240i
Also referred to as E-720i, this Ecostar UPS offers a 720 Watts capacity. As a result, it supports 6 fans along with twelve energy savers or six tube lights. The Ecostar inverter UPS price for this model is Rs.12,850.
E-2440i
This is the right option for large buildings. E-2440i features a 1400 Watt capacity which enables it to light up thirty energy savers or fifteen tube lights and run ten ceiling fans. The price is quite affordable at Rs. 14,800.
E-1440i
With a battery voltage of 24 V and a 1440 Watts capacity, E-1440i is capable of powering ten fans and thirty-two energy savers. It costs Rs. 15,900.
E-2460i
This is the most powerful inverter UPS in the Ecostar E-series family. With 1600 Watts capacity, fifteen fans can be powered. In addition, 35 energy savers or 18 tube-lights are also supported. It is the perfect solution for large buildings and costs Rs. 15,650.
The common features shared by all inverter UPS models manufactured by Ecostar are as follows.
An affordable Ecostar inverter price in Pakistan so that anyone can go for it. Even the most powerful model which is designed for large buildings costs only Rs. 15,650.
The appliance is not noisy. Most models only generate a little noise which remains well below 40 to 50 db.
The UPS is compact and does not create issue of space.
LCD display and LED indicators on most models enhance the convenience of use.
All the models offer the utmost security by offering protection against overloading, overcharging as well as short circuiting.