Sogo Rechargeable Fans Prices in Summer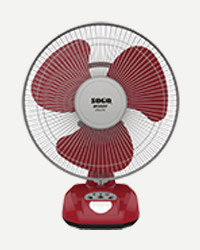 Model

JPN-670

Prices

Rs. 3,000

Sogo Rechargeable Fan JPN-670 Features
180° oscillating table fan
AC/DC operated
2 LEDs night light
12V DC Socket
6V 4500mAH rechargeable battery
3 speed function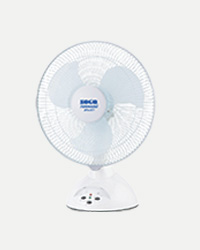 Model

JPN-677

Prices

Rs. 3,000

Sogo Rechargeable Fan JPN-677 Features
180° oscillating table fan
AC/DC operated
2 LEDs night light
6V 4500mAH rechargeable battery
2 speed function
Model

JPN-673

Prices

Rs. 3,800

Sogo Rechargeable Fan JPN-673 Features
180° oscillating table fan
AC/DC operated
8 LEDs night light
12V DC socket
12V 4500mAH rechargeable battery
3 speed function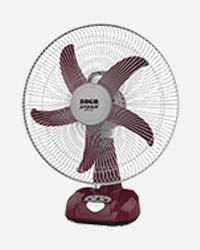 Model

JPN-671

Prices

Rs. 4,000

Sogo Rechargeable Fan JPN-671 Features
180° oscillating table fan
AC/DC operated
2 LEDs night light
12V DC socket
6V 7000mAH rechargeable battery
3 speed function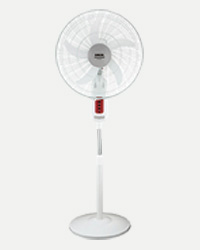 Model

JPN-680

Prices

Rs. 4,500

Sogo Rechargeable Fan JPN-680 Features
180° oscillating stand fan
AC/DC operated
12 LEDs emergency light
12V DC socket
12V 4500mAH rechargeable battery
3 speed function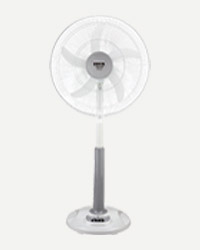 Model

JPN-693

Prices

Rs. 5,800

Sogo Rechargeable Fan JPN-693 Features
180° oscillating stand fan
AC/DC operated
4 LEDs emergency light
12V DC socket
2X6V 4500mAH rechargeable battery
2 speed function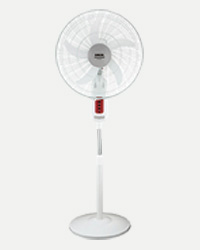 Model

JPN-681

Prices

Rs. 6,000

Sogo Rechargeable Fan JPN-681 Features
180° oscillating stand fan
AC/DC operated
12 LEDs emergency light
12V DC socket
12V 4500mAH rechargeable battery
3 speed function
Model

JPN-682

Prices

Rs. 4,500

Sogo Rechargeable Fan JPN-682 Features
180° oscillating stand fan
AC/DC operated
6V 7000mAH rechargeable battery
2 speed function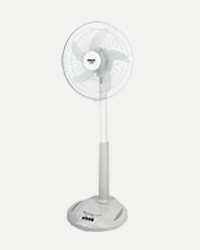 Model

JPN-695

Prices

Rs. 4,800

Sogo Rechargeable Fan JPN-695 Features
180° oscillating table fan
AC/DC operated
4 LEDs emergency light
6V 7000mAH rechargeable battery
2 speed function
Sogo Rechargeable Fans Review
Why Sogo Products Are Worth Loving:
Since its inception, Sogo has always focused on providing the people of Pakistan with the most reliable products, especially the rechargeable ones. Owing to its commitment for quality assurance, the company has earned a great name and fame across the country. People love to buy Sogo products, particularly, because of their high standard and affordable price packages. If you want to buy anything, just explore the Sogo products store and get the one that suits your needs best.
Sogo's Pool of Products:
Sogo's pool of products is replete with variety. These include solar products, PVC tapes, switches and sockets, industrial lights, LED products, exhaust fans, home appliances, automobiles, energy saver lamps, rechargeable lights and rechargeable fans. All these items further exhibit variety in their design, working and price. Owing to long hours of load shedding, these rechargeable products have got considerable popularity and appeal among all and sundry.
Sogo Rechargeable Fans Price in Pakistan:
Affordable Sogo rechargeable fans price in Pakistan has fetched them great popularity. At the same time, they satisfy the users with their reliability, energy economy and powerful working. These include, table fans, stand fans and wall fans. The company is also offering rechargeable air coolers. Some of the popular Sogo recharge fans are being briefly described as under:
JPN-670 Table Fan:
This rechargeable table fan can oscillate at 180o. It can be operated with both AC and DC voltages. You can run it with as low current as 12V DC. The 4500 mAh battery keeps it running for a long time with single recharge. It comes with 3 speed function, i.e. low, mid and high. So, just place it on the table and get less or more air as per your requirement.
JPN-672 Table Fan:
The JPN-672 model is almost similar in features and functionalities to its sibling JPN-670 except that the capacity of the rechargeable battery has been significantly increased. Here, you will come across a huge powerhouse of 7000 mAh. It simply means that the battery life would last for much longer. For night light, the manufacturers have fixed two LEDs in it. Obviously, in this case, you must be expecting a bit high Sogo rechargeable fan price in Pakistan.
JPN-681R Stand Fan:
This 180o oscillating stand fan carries a 12V DC socket. However, you can also operate with alternating current. The emergency light is provided with 12LEDs. Like majority of rechargeable fans from the house of Sogo, it also supports 3-speed functions. The battery power measures 4500 mAh which can fuel it for several hours.
JPN-685 Stand Fan:
Here is an advance and extremely powerful alternative to the JPN-681R model. On one hand, it is packed with a huge capacity 7000 mAh battery, while on the other hand, you have the amazing facility to operate it with a remote control device. Another great feature is that of a USB output socket. This AC/DC operated rechargeable fan can oscillate at 180o. However, the speed function has been decreased to two. And this shouldn't be a big issue.
The list does not end here. Still there are dozens of other rechargeable fans models with different specs standards. Obviously, the price tags do read differently across different models. In any case, you won't face the issue of affordability.